Cake "Lemon Symphony"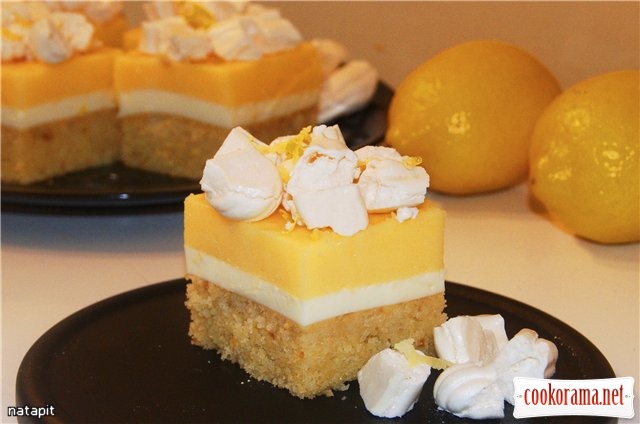 Ingridients
Meringue sticks
50 g.
50 g.
50 g.
Geneva biscuit
150 g.
120 g.
2 шт.
75 g.

hazelnut (ground into flour)

75 g.
20 g.
20 g.
Lemon syrup
50 g.
50 g.
Vanilla panna cotta
340 ml
55 g.
10 g.
1 g.
Lemon cream-curd
3 шт.
100 g.
140 ml
8 g.
150 g.
This cake was made for lovers of lemon pastries!
The amount of sugar I regulate to taste, who like sweeter, add more sugar in lemon curd and panna cotta!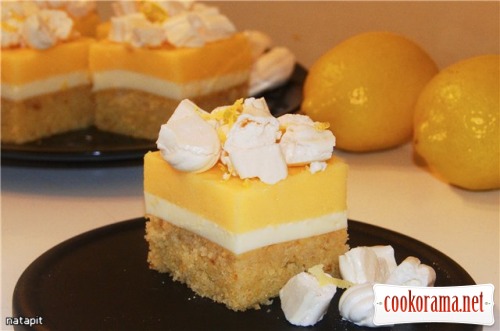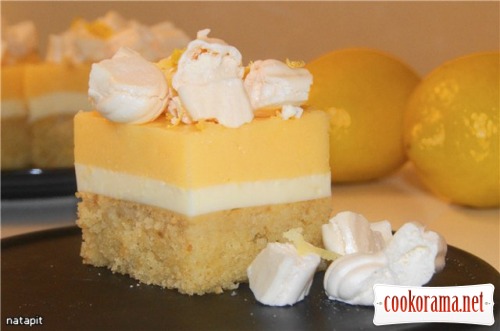 Preparation
Bizet:
Mix egg whites to form light bizet, still mixing gradually add sugar, mix to sustainable peaks, add icing sugar and stir gently with spatula.
Put bizet in pastry bag (syringe) and squeeze rolls on a baking sheet, covered with parchment paper.
Bake bizet in the oven at 80 ℃, for about an hour. Keep them in an airtight container so that they do not become wet, cut into pieces for decor.
Sponge cake:
Mix in cream butter and sugar until fluffy and gradually add slightly beaten egg.
Sift dry ingredients together and combine with butter cream, stirring with spatula.
Lightly mix large egg that is left, then add to dough and mix thoroughly, put in from and bake at 170 ℃ for 20-25 minutes. Cool in form and impregnate with syrup, free from form.
Syrup:
Mix all ingredients and boil for 2-3 min, cool it.
Panna cotta:
Cover clean form, in which was baked cake with cling film (very convenient to do it when form is wet, film covers tightly and it is easier to spread it!)
Heat cream in saucepan well (240 ml.) and sugar, without boiling, soak gelatine in cold water when it swells, squeeze and add it to the hot cream, cool, then add cream (100 ml.) and vanilla. Place mixture in a form and send in the refrigerator for 3-4 hours until complete solidification.
Cream-curd:
Beat together eggs, sugar and lemon juice, put on a steam bath and stirring constantly, cook until thickening. Remove from heat and add soaked and squeezed gelatine, stir well, then add the butter and mix. Cool completely and refrigerate to let it thicken, but do not freeze it.
Assembly:
Put on soaked sponge cake frame from form, spread a small amount of curd, top with panna cotta put, that can be frozen before that, I do not froze, at first shifted it with a food film on sponge cake, and then put on a frame of form. Spread rest of the cream-curd on panna cotta and smooth, place in the refrigerator overnight.
Release frozen cake from the form carefully cutting sides and cut into pieces — I got 12 pieces.
Just before serving, decorate with meringue and rub on a coarse grater and mixed with powdered sugar, lemon zest.