Chocolate cake with cherries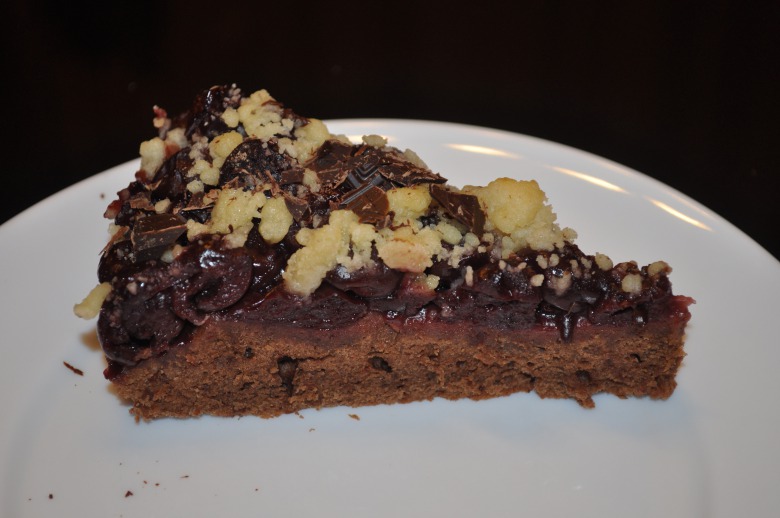 Ingridients
Dough
50 g.
60 g.
60 g.
2 шт.
2 spoon
4 spoon
40 g.
40 g.
1,5 tsp.
40 g.
Filling
500 g.
1 tsp.
Sprinkling
1 spoon
4 spoon
2 tsp.
Once in the cafe Coffe Life tried «Christmas Pie», a flavored, chocolate with cherries and spices. Repeatedly tried to find the recipe, tried variations, but that turned out not wahat I want.

But it seems I combine waht I wanted.

Preparation
So. Mix softened butter with sugar, add eggs. Mix it. Add vanilla, milk, vodka, melted chocolate in a water bath and mix again. Add flour, baking powder and starch. Spread in a well greased split form at diameter of 26 cm and place in preheated oven at 180 ℃.
After 15 minutes on top of cake, which already bakes put cherries, drained from juice (if a little juice remain -not matter), sprinkle with cinnamon and topping (for topping mash with hands butter, flour and sugar in crumbs. for 10 minutes in fridge) and bake for about 15 minutes. The temperature can be raised to 200℃.
Remove from oven and let it cool down.
Once it cools, you can decorate with grated chocolate. (To get this effect like the confectioners Cove «Jarni do, melt chocolate and pour a thin layer on the metal surface, let it cool in the refrigerator, and then as if scrape chocolate from the surface with a knife).
And so, on the left is cake from coffee shop, and right — my home-grown version. I think if cherries were fresh or frozen -color would be the same bright.