Pasta with sauce "Hello Italy"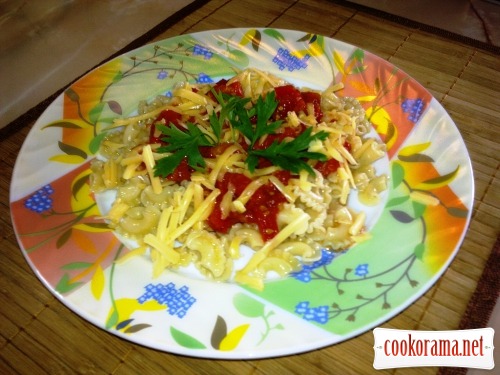 Ingridients

Inspired by «Linguine with the simplest tomato sauce»

Preparation
Boil macaroni in salted water. Tips for novice chefs – 5-6 min.
Pour water out, shift macaroni in saucepan, add butter (I like to add some oil, refined odorless), not to stick together, mix it.
Pour tomatoes with boiling water, remove peel,
Cut in pieces, and spread in heated pan with butter (I used oil, maybe because I don`t have olive oil)
Chop garlic, pepper and add to tomatoes
Add salt, pepper, some sugar, basil (any spices you like)
Stew it.
Pour macaroni with sauce, sprinkle with grated cheese
And that`s all…
A special «thank you» Kagor for his
«Tomato salsa»
By the way, the remnants of our home «ketchup» put into a jar and save for another meal