Cheese cake "Tears of angel"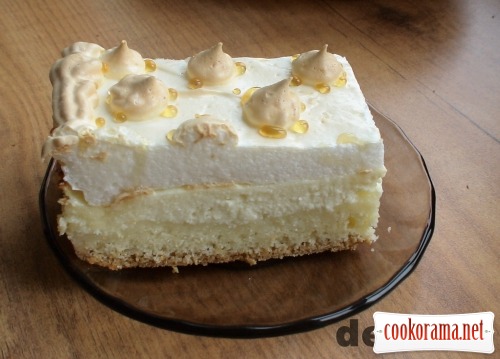 Ingridients
Dough
1 glass
1 tsp.
80 g.
2 spoon
1 шт.
Curd mass
500 g.
0,5 glass
3 шт.
1 spoon
100 g.
Souffle
3 шт.
5 spoon

Perhaps many have already prepared this recipe, but who did not prepare, it is worth a try — very tasty cake.

Preparation
Mix butter with flour, baking powder and suagr, add egg, quickly knead dough and put in the fridge for 30 min. Meanwhile mix in blender all ingredients for curd layer to get smooth mass. Spread cooled dough on greased with butter form, spread on top curd mass and bake for 30 min in oven, heated at t 180℃. Meanwhile mix whites with lemon juice and sugar powder into strong foam, as meringues. Spread whites on curd mass and put in the oven for another 10-15 min. Take out cake and let it cool well!
By cooling on the surface of soufflé will be drops-tears, which bring the name to this cake.
Bon Appettite!