Cheese cake with bacon and chestnuts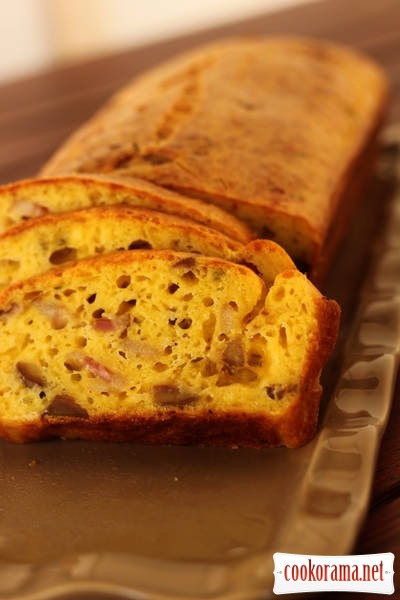 Ingridients
3 шт.
150 g.
1 tsp.
30 ml
50 ml
130 ml
100 g.
2 шт.

chestnuts (canned or peel raw and boil for 20 minutes.)

150 g.
100 g.


I wanted to try fried chestnuts long time ago, toughts of which arec loosely connected with autumn Paris (though I`ve never been in France), but they should be fried o a special pan with holes, which we never had. And I found one in Ashan. I watched them long time ago and found recipe, which made me to bye them. By the way, I wish not to buy the shop ones, 2/3 of which were spoiled, and you can`t see this under the peel. I`d better use tinned next time.

Preparation
Whisk eggs with flour, baking powder to get smooth mass without clumps, pour oil, milk, add cheese.
In pan, fry in spoon of oil bacon and onion, you decide, for how much melt fat from it, and when add chopped chestnuts. Drain fat and add bacon and chestnuts in dough, salt, pepper and pour in form, covered with cooking paper. Bake for 45 min at 180 С, check with a toothpick.
Very unusual combination – not sweet cake, bacon, chestnuts, golden crisp – by the way, tastes well with beer. But next time I`ll melt more fat, or take a smoked brisket without lard.