Cake "Coquette Larissa"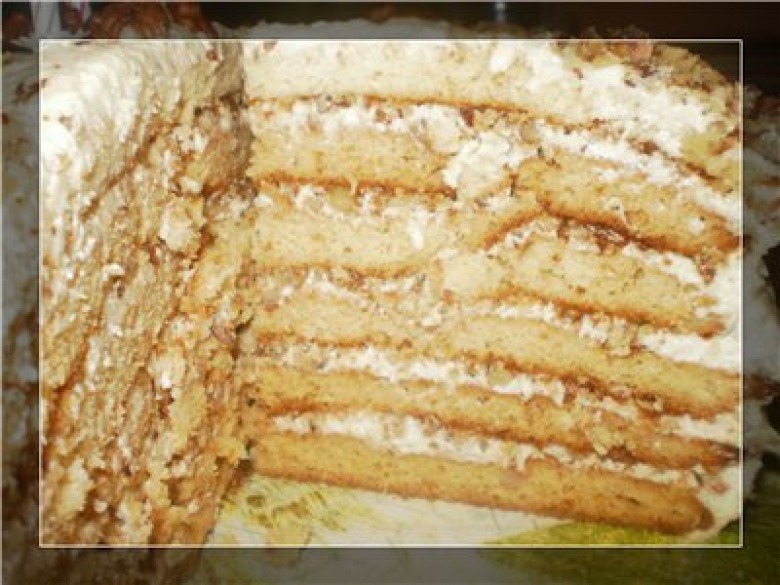 Ingridients
Dough:
150 g.
3 spoon
1 glass
3 шт.
1 tsp.
1,5 tsp.
2 glass
cream:
1 glass
3 glass
3 шт.
3 spoon
250 g.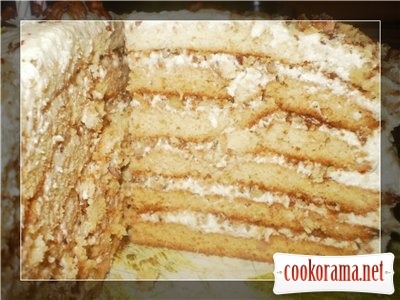 This cake often prepares my sister

Preparation:
Cakes:
Melt margarine, add honey and sugar and put on a bain-marie, warm until boil but NOT to boil.
Cool down a little. Add eggs and stir well.
Add slaked with vinegar soda and gradually adding flour quickly knead a dough.
Put 2-2,5 tablespoons of honey dough into warm deep frying pan and evenly split it under pan. Bake until golden color (5-7 minutes), trying to not dry up the cakes.
Cool down.
Cream:
Mix flour with a little amount of milk, stir well until there is no lumps. Add milk into the mixture and stir well.
Mix eggs, sugar and vanilla with milk mixture.
Put it on the gentle fire and warm until thickening and boiling, always stiring with whisk. Do not boil.
Cool down.
Whip butter of room temperature until white, pour in cream and whip.
Cool down in a refrigerator.
Join:
Spread cakes with cooled cream, sprinkle each of cake with ground nuts. Top cake spread with cream and decorate with halves of walnuts.
Leave cake to soak up for about 1-2 hour in warm and serve. Cake do not need cool.
Cake comes out very gentle, soft and tasty!
Bon appetit!
676

02 December 2011, 16:54