Cake with sweet peppers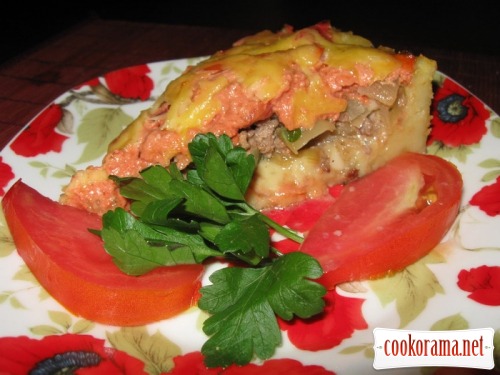 Ingridients
Dough
4 шт.
80 g.
1-1,5 glass
Filling
500 g.
2 шт.
2 шт.
1 шт.
200 g.
0,5 шт.
Pouring
150 ml
3 spoon
3 шт.
3 spoon
Preparation
DOUGH
:
Boil potatoes in salted water and mix with butter, cool it. Add flour and knead dough. Spread it in form, make sides. Spread them with rolled in flour hands. Put in the fridge for 20 min.
STUFFING
:
Chop onion and pepper, fry in oil and spread on plate. Then add mince and spices. Mix mince with parsley, onion, pepper.
FILLING
:
Whisk eggs, adding milk, sour cream, tomato paste and spices.
Pull out dough and spread stuffing on it.
Then sliced tomatoes and pour filling.
Put in the oven for 25 min at 180 degrees. Then sprinkle cheese and for another 5 min. (Add tomato if you wish.)
Better tastes hot. Try it. Bon Appetite!!!