Chicken baked as pastroma and puff rice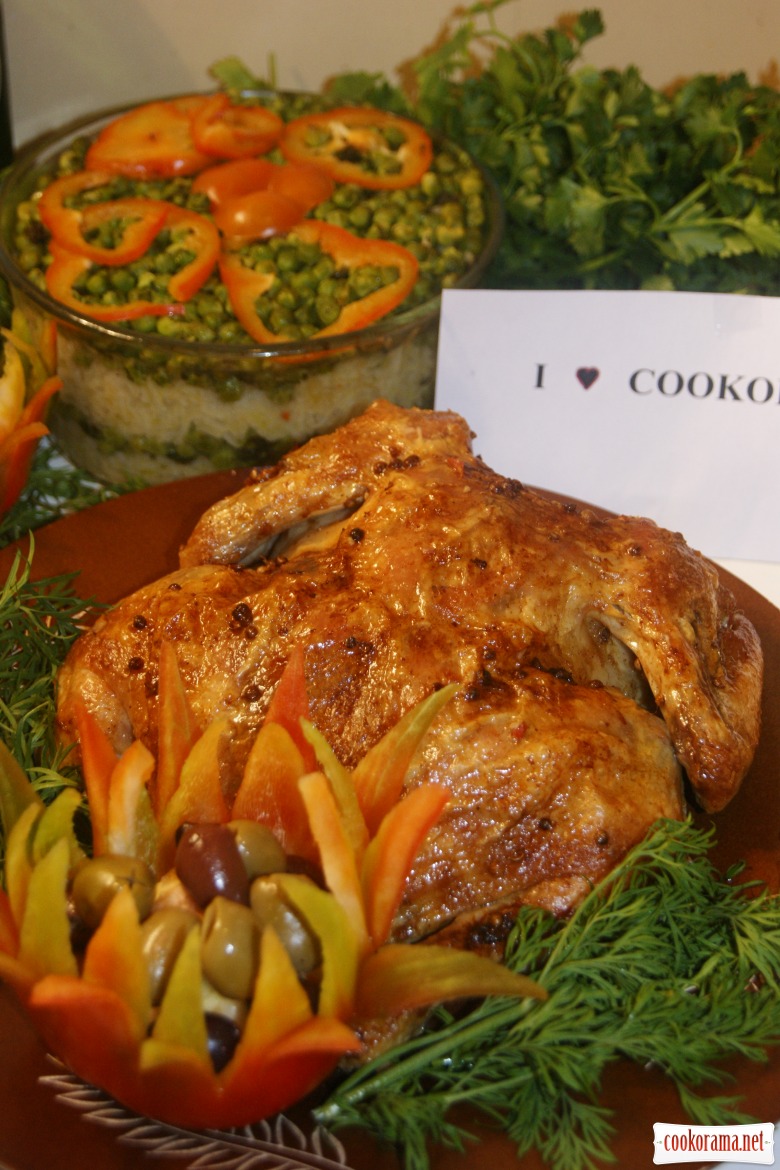 Ingridients
Chicken
2 kg
1,5 шт.
200 g.
1 tsp.
1 tsp.
3 spoon
4 шт.
Puff rice
250 g.
5 spoon
300 g.
500 g.
4-5 spoon
3 шт.
For serving
A good combination of aromatic and juicy chicken with rice and green peas, we really like, try you too!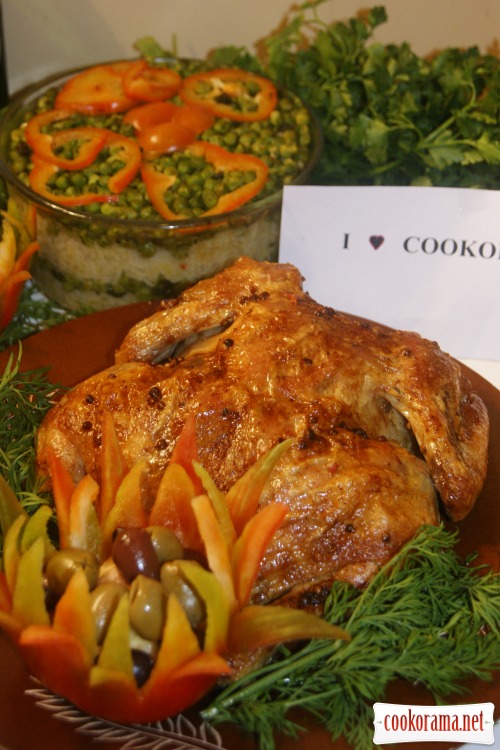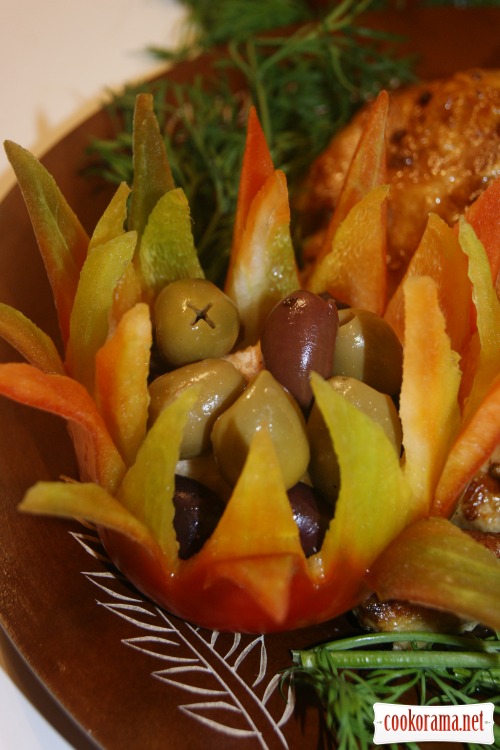 Preparation
Soak chicken in very salty water minimum for 1 h, I did for almost 3 h.
Put in colander and let the water drain.
Put chicken on kitchen table breast down and press with hands from top, to spread carcass, this is necessarily, not to burn breast by baking, I cut off fat from back part of chicken and put it under skin in breast, then it turns out juicy by baking.
Rub with lemon juice well and pepper, there is no need to salt.
Put marinated chicken in tightly closed container, put in the fridge for a night.
Mix yogurt with mustard and spices, put garlic evenly throughout the carcvass under the skin of chicken, smear chicken abundantly with resulted sauce and let it stand for 30 minutes.
Place in ovenproof dish, por on bottom a little water and 1-2 tbsp oil and cover tightly with foil shiny side inside.
Bake in well heated oven at 220 ℃ for 35-40 min, then reduce to 180 ℃, periodically pouring with juice.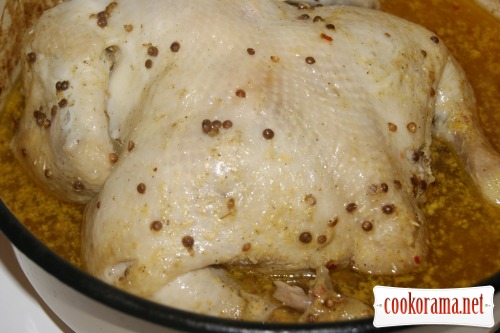 In 15-20 min to readiness remove foil and let it browns well.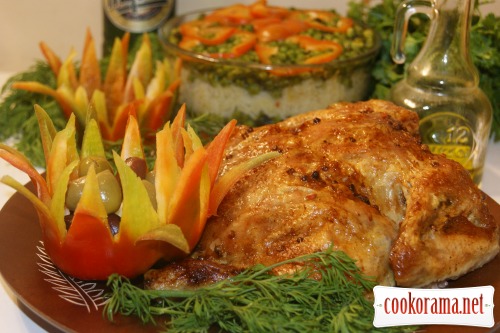 Rice:
Heat olive oil (2 tbsp) in saucepan and fry quickly rice in it, pour with broth and cook over low heat till almost complete evaporating of broth, rice should be not almost finished, but not raw.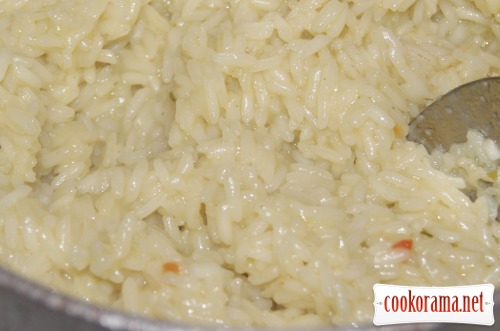 Heat olive oil and butter in saucepan, put in it crashed with knife garlic, stew for 2 min.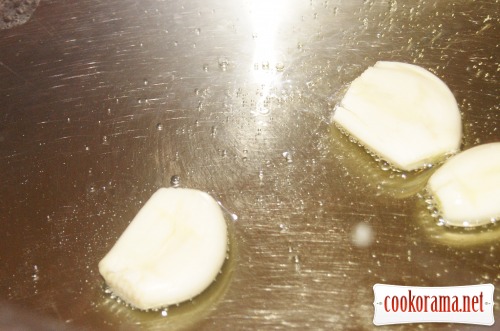 Add dill, stew for 2 min.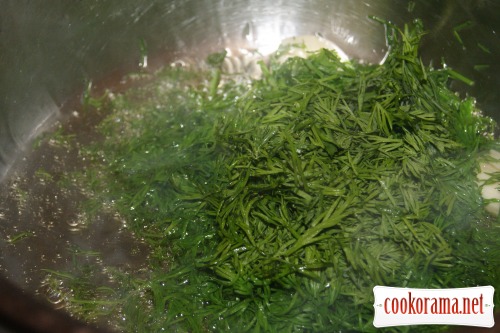 Next, add peas and stew for 5-7 min, remove from heat.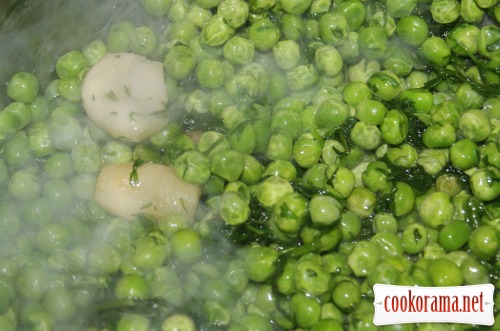 Spread in ovenproof dish, alternating layers of peas and rice, remove garlic. Top with sliced into thin rings pepper. Cover with foil and bake in the heated oven to 190 ℃ for 30-35 min, in 15 min, if necessary, add some broth.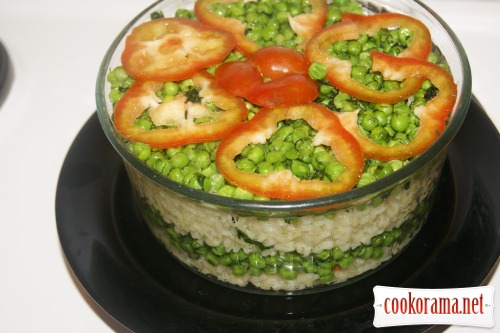 Cut Bulgarian pepper diagonally in zigzag. Carefully divide each petal with knife.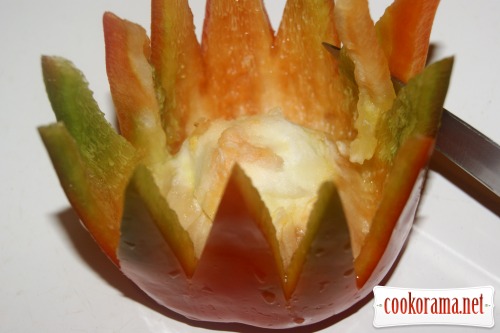 Put pepper in cold water for 15 min, to curl petals and pepper became like a flower, place inside olives and sprinkle with lemon juice, garnish with greens.