Chicken baked with potato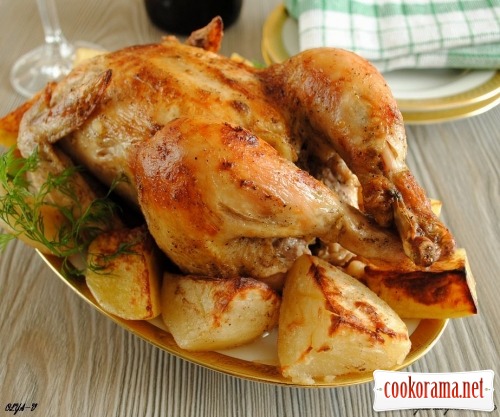 Ingridients
1 шт.
4-5 шт.
2 шт.
1 spoon
1-2 spoon
0,5 tsp.
Preparation
Put pieces of garlic in prepared chicken. Mix in bowl olive oil, mustard, salt, pepper and spices, grease chicken with resulting marinade from inside and all sides. Put inside springs of dill and a clove of garlic, fix belly with toothpicks, tie legs together with thread, pin wings to the body with toothpicks. Put on the breast under the skin small pieces of butter (so breast is tender and juicy). Shift the chicken in the form sprinkled with oil, set aside, let it marinate for a few minutes.
Peel potato, cut in pieces, shift in bowl, mix with salt and some olive oil, spread potatoes round the chicken.
Heat the oven at 200℃, pour in form few tbsp of hot water, put chicken in the oven, bake to readiness, (juice should be transparent by piercing, I baked more than hour).
In 5 min to readiness you can turn on fan in oven, to get crisp.
Bon Appetite!