Chicken, stewed in red wine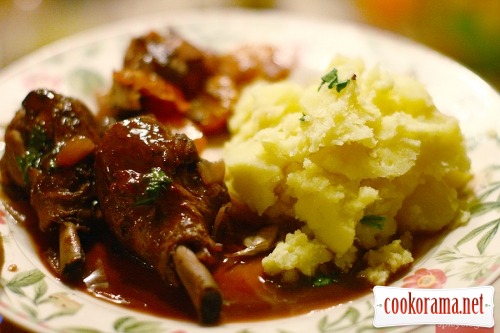 Ingridients
12 шт.
0,75 g.
4 шт.
2 шт.
1 шт.
2 шт.
3 шт.
1 bunch
Classic French bistro, the famous coq au vin, recently decorated stunning evening outside the city. Maybe it is the most gentle dark chicken meat in saturated wine sauce. Or maybe it's the heat that radiates a satisfying dinner in good company when outside is fresh air and very invigorating cold. In any case, it is an experience I want to share.


Preparation
If desired, you can make incisions in veins on the lower part of shin, and then cut off with a large knife «bone». Thus treated leg will be cooked faster. Put meat in large bowl, pepper it.
Cut coarsely onion and carrot. Do the same with bacon. Put saucepan over medium heat and pour tbsp of olive oil. Add bacon. Fry for 5 min, then add onion and carrot. Cook, periodically stirring, for 10 min.
Meanwhile heat pan over strong heat. Add 2 tbsp of olive oil. Salt chicken and fry till golden color. Better to do this in two steps, otherwise the temperatue of pan falls down, and instead of crust, we`ll get boiled chicken.
Once chicken becomes golden, add it in saucepan with vegetables. Stir it, add bayleaf and ground pepper. Salt it. Drain fat from pan and put back on heat. Pour two glasses of wine and scratch with wooden spoon meat juices from bottom of pan. Pour resulting sauce in saucepan, add there the rest of wine.
Bring to a boil, then reduce heat to mimimum or medium, it is important that all boiled slightly, slowly and languidly. For me stewed chicken has always been tender meat on the bone. To secure this, you need to cook gently at low temperature. Do not forget once in 10-15 min remove with skimmer foam from the surface.
In 40 min, check the readiness of chicken. If the meat is effortlessly move away from the bone, then know that you are on the right track. Remove legs from the pan and set aside. Pass through a sieve half of the liquid into a smaller saucepan. Boil until liquid evaporates to a glossy, glaze -like saturated sauce. Remove from heat and stir in a handful of finely chopped fresh parsley.
Serve chicken legs, poured with sauce, with vegetables, and, if desired, with a slightly mashed boiled potatoes.