Baked mashed potatoes and meat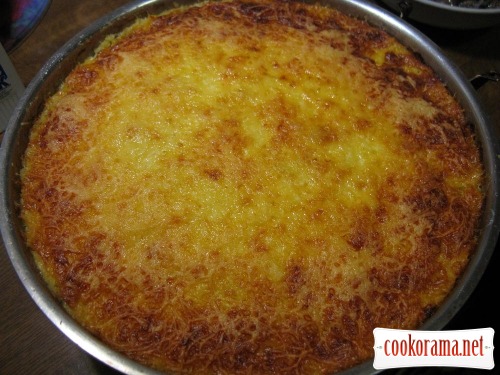 Ingridients
1 kg
500 g.
2 шт.
1 шт.
3 шт.
150 g.
1 spoon
Preparation
Boil potatoes and make puree, without butter and milk. Let it cool a bit.
Add eggs,spices and greens, mix well.
Cut meat in pieces, fry in oil not till readiness.
Add chopped onion and carrot, cook till readiness, add salt and pepper. Cool it.
Grease form with butter.
Spread half of puree.
Spread vegetable — meat mixture.
Spread rest of puree and top with sour cream.
Sprinkle with grated cheese.
Bake in oven until browning of cheese, for about 20 — 30 min., at 180 — 200 C.
Bon Appetite

Very tasty casserole, though somewhat poorly removed from the mold. You may need to bake in split form.
Sorry, forgot to take a photo of the cut

, and it looked so appetizing