Thai soup "Tom Yam Kung"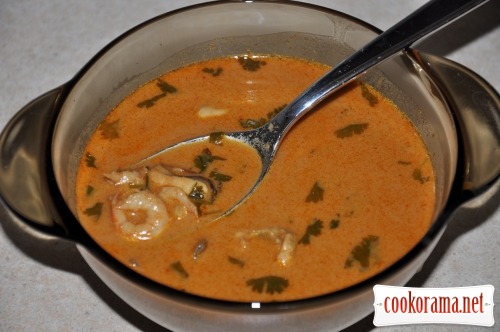 Ingridients
450 g.
2 spoon

broth (курячий або рибний)

400-500 g.
1 spoon
1 spoon
200 g.
500 ml

The famous Thai soup «Tom Yam Kung» — the specialty of Thai cuisine. It is sour, very sharp, spicy, with flavor of shrimp. Although products from which it is prepared is practically not available in our area, so I simplified the search for ingredients, replacing liquid foundation of sauce «Tom Yam» with paste of appropriate name. This paste is diluted with coconut milk or cream, and chicken or fish broth. In closed container paste can be stored in the refrigerator for several months, but from your own cooked sauce it is virtually identical. If you are available for such products as halanhal (a type of ginger) lemonhrass, leaves kaffiru (lime), then you can prepare this paste by your own, and now I offer a bit adapted recipe for this soup using more available products.
Warning! If you do not like spicy — perhaps you will not like this soup!

What is the hardest to get:


Full range of products for soup:

Preparation
In fact, the soup is prepared very quickly if seafood prepared and cleaned. I took the most of time for preparation, as I previously boil shrimps, put in boiling water frozen shrimp, brought water to a boil, drained and put aside. As shrimps cooled I cleaned them, because Thai tradition to cook soup with not cleaned shrimp I do not like, do not want to pick in plate, cleaning shrimp. And actually a broth that was previously used for cooking shrimps I used for soup.
Separately boil frozen mussels on the same principle as shrimp, ie defrost only in boiling water, not cook them, because they would be rubber.
Chinese dried mushrooms muer soak for a few hours, boil for 5 minutes and pour water out. You can not just use champignons or even oyster mushrooms, but I wanted to make it as much as possible in Thai, so I used Muer.
Then everything is easy, boil shrimp broth, dissolve in it 2 tablespoons of paste Tom Yam, add a spoonful of soy sauce and spoon of sauce sukiyaki, pour coconut milk, boil for 3 minutes and then pour seafood with mushrooms, boil for another 3 minutes, add chopped parsley and cilantro, immediately turn off the gas.
There is no need to add salt, sauce sukiyaki (chili) is also not necessary to add, if you do not like too spicy food, and if on the contrary like spicy, you can add even a little dry or fresh ginger.
Bon appetit!