Cake "Honeycomb"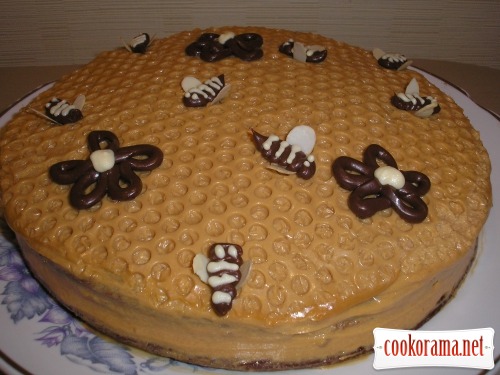 Ingridients
Flat cakes
3 шт.
1-1,5 glass
1,5 glass
10 g.
2 spoon
1,5-2 glass
10 g.
Cream and decorations:
400 g.
200-250 g.
100 g.
10 g.
50 g.

This cake I made for birthday of the son. I really wanted to surprise him — and I made it!

Preparation
Mix all the ingredients foe flat cakes. Mix well with mixer. Grease baking form with butter and sprinkle with breadcrumbs. Pour half of dough in form. Bake at 180 C for 30-40 min. Bake second cake the same way. Cool the cakes. Cut cooled cakes in two halves along.
Meanwhile prepare cream. For this mix soft butter with condensed milk with the help of a mixer. Put about 3 tbsp of cream in a separate dish– to top the cake. Smear first cake with cream and spread cherry on it.
Cover with the second half and spread cream on it. Smear the rest two halves with cream and put on each other. Smear all the cake with cream well.
Now pour gelatin in bowl, pour with cream and let it stay for 5-10 min.
Heat gelatin mass a bit, do not bring to boil. It`ll become liquid after heating. Mix gelatin with cream, which we left for the top of cake. Mix well. Pour cream on cake and spread it. And in order to get the honeycomb take the film with bumps that packs technique (pre-washed and dried). For convenience,I cut out the film circle by shape of cake before pouring cream.
Now put a film neatly on top of the cake and press a little. After that, put the cake in the refrigerator overnight.
Make bees and flowers. Wrap cutting board with foil. I do not have special kitchen bags. So I took a normal office file and make 2 packages from it, then I made VERY small hole in one (that`s fir white chocolate), in the other bigger one. At first melt black chocolate on water bath (I used half of bar). By melting you can add 1-2 tsp of cream. When chocolate melts, pour it in package and spread on foil something similar to body of bee. Put bees to cool in the fridge.
Meanwhile melt on water bath white chocolate. I found the white chocolate only in a porous form. It becomes very liquid by melting. I removed it from heat and waited for 20 min, to thicken it a bit, but during this time bodies of bees froze well. Then pour white chocolate in package and make eyes and strips for bees.
I remained black and white chocolate, so I tried to portray something like flowers of residues. And now put bees and flowers in the freezer overnight.In the morning carefully remove film from the cake. I worried that it will come off with the cream, but it withdrew quite easily.Put chocolate flowers on ready cake. Put bees near the flowers. Wings is better to make from almond petals (I inserted wings into the cream under bees). The cake is ready.