Cake "Ladybug"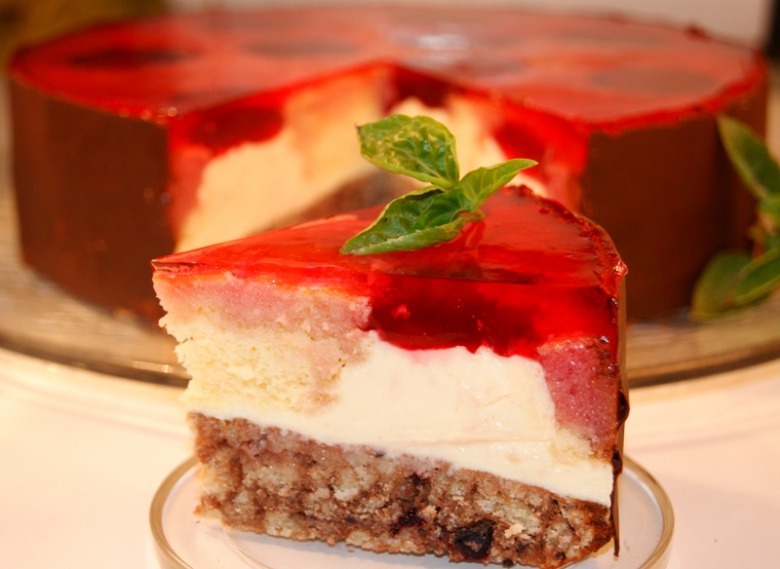 Ingridients
375 g.
320 g.
320 g.
20 g.
5 шт.
10 g.
50 g.
110 g.
500 ml
40 g.
25 g.
60 g.

cherry jelly (or strawberry, 2х80)

160 g.
25 g.
Two kinds of flat cakes, custard with pudding and jelly — layered and a variety of taste, but so wonderfully combined! I think that cake will like both children and adults!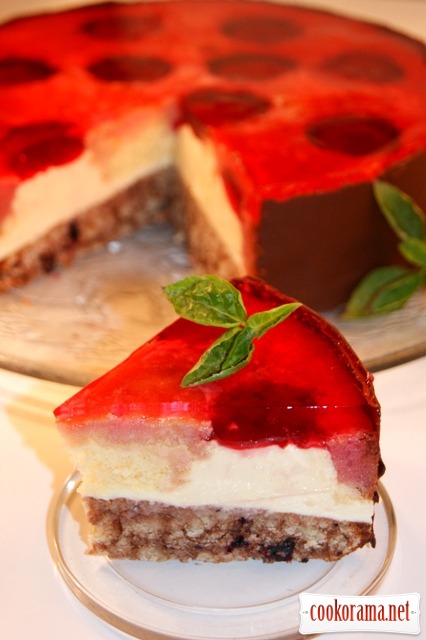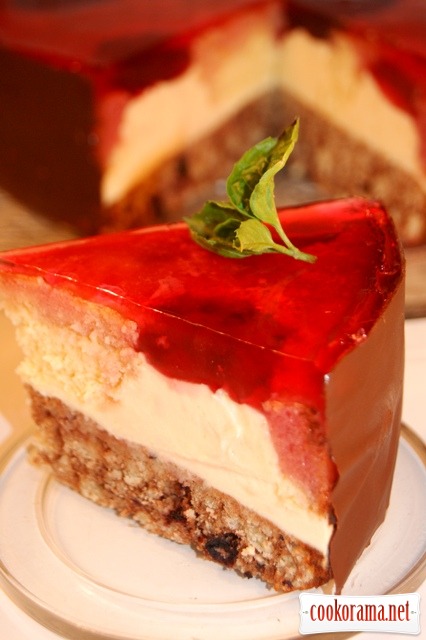 Preparation:
Colored flat cake :
Melt 125 g of butter with sugar till complete dilution of last, cool it and add 210 g of flour. Knead smooth dough. Form ball and freeze it.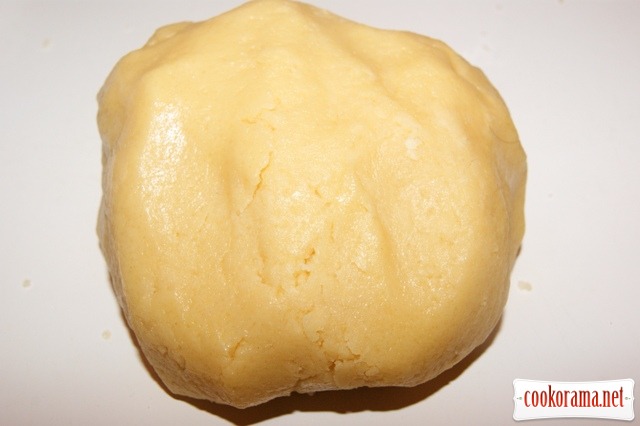 Mix coda with sour cream, add 2 eggs, jam and cocoa. Mix well. Add to this mixture grated frozen dough. <ix with spatula.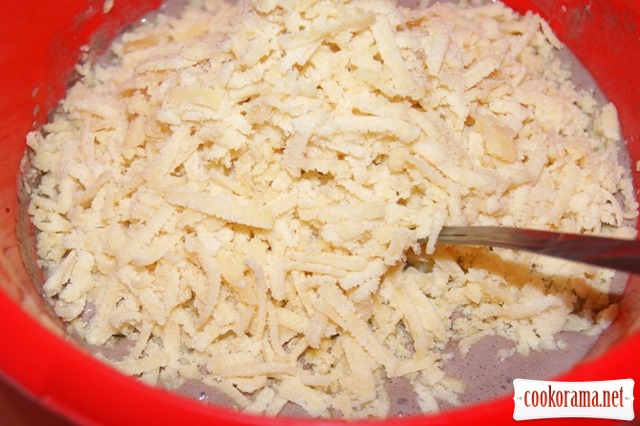 Put in covered with baking paper form of 24 сm in diameter.
Bake in the oven at 180«С for 30 min. Depends on your oven.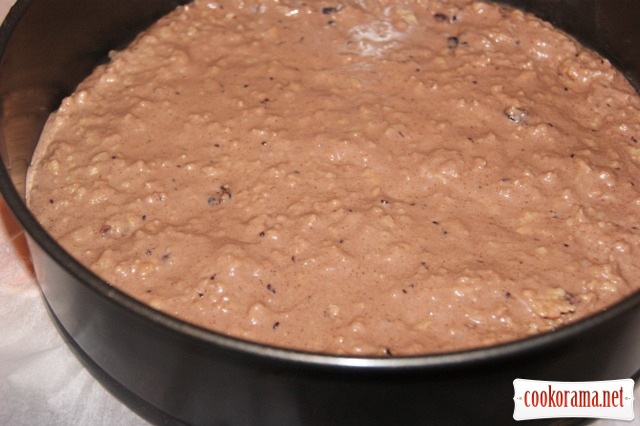 Cool the ready cake down.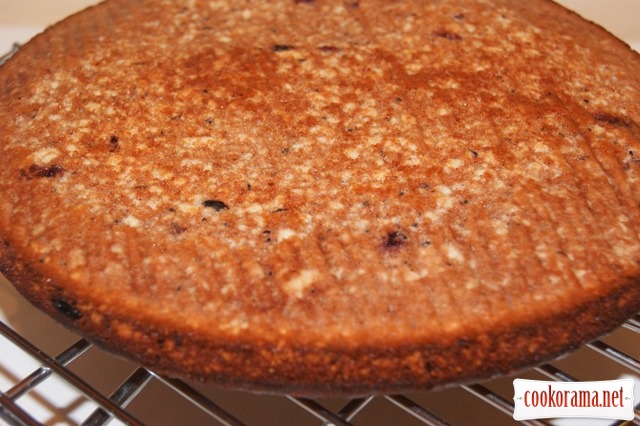 Biscuit cake:
Mix 3 eggs with 110 g of sugar not less than 5-7 min. Add 110 g of flour in two portions and mix with spatula.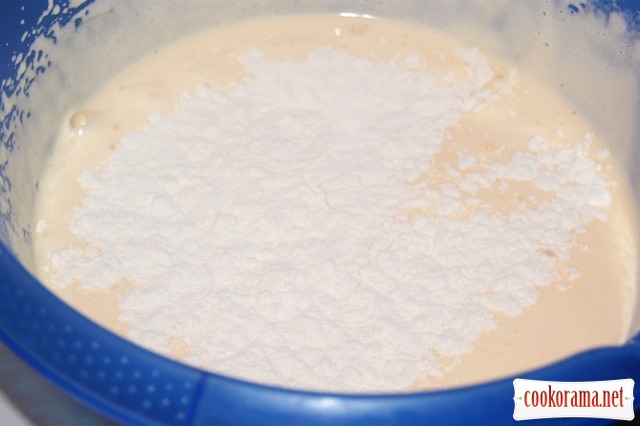 Spread dough into 24 сm form. Cover bottom of it with baking paper. Bake at 180»С for 30 min. Depends on your oven.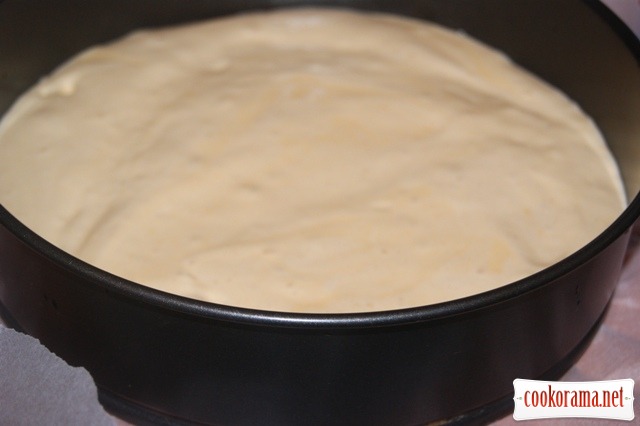 Cool the ready cake down.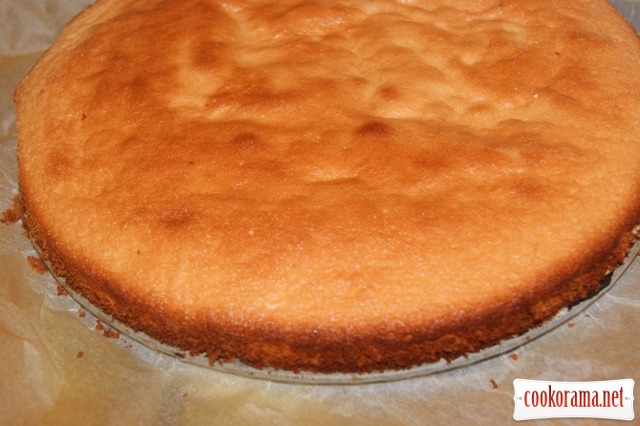 With vodka glass make recesses all over the entire diameter of the cake. It`s better to do it with the «wrong» side of the cake!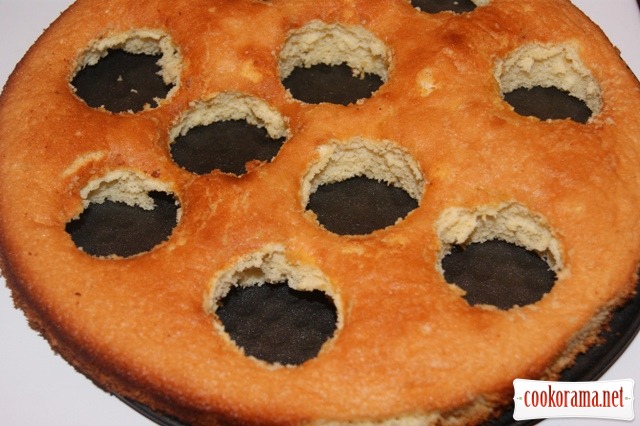 Cream:
Dilute vanilla pudding in 100 ml of cold milk. If you do not have pudding, replace it with corn starch or 2 tbsp of flour.
To the rest of milk add 100 g of sugar and lemon peel, bring to boil and constantly stirring pour miluted in milk pudding, boil cream, remove the peel. Cover ready cream with food film and leave it till complete cooling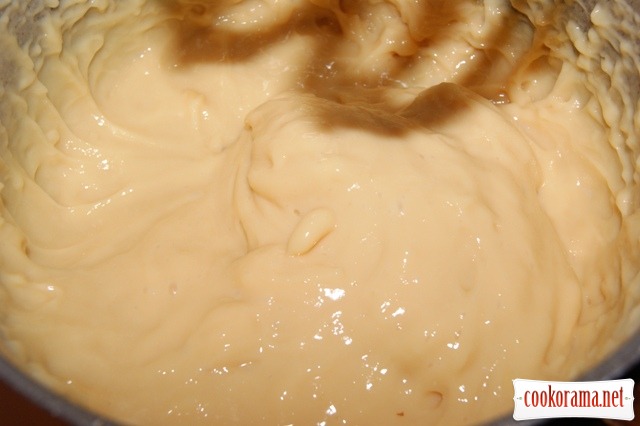 Add to cooled cream 250 g of soft butter, lemon juice and mix it.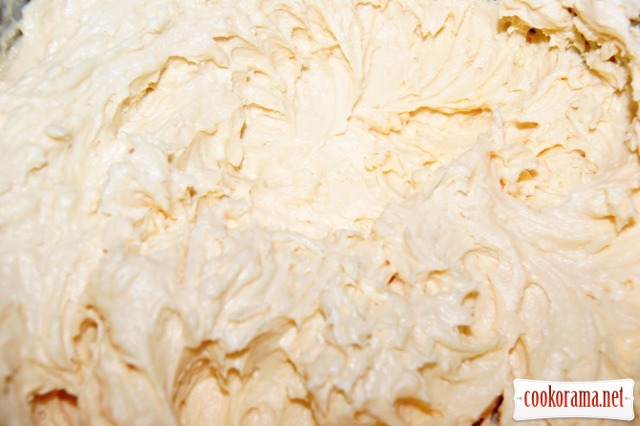 Assembly:
Spread colored cake on dish and soak with cherry or any other your favorite syrup diluted in small amount of water.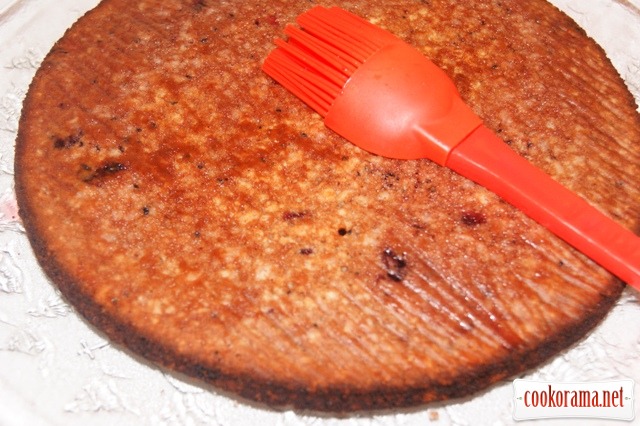 Spread on cake all cream and cover with biscuit cake. Press a little, to get cream in recesses and close them, and not completely, but for 1/4. This is necessary in order not to pour out jelly in recesses.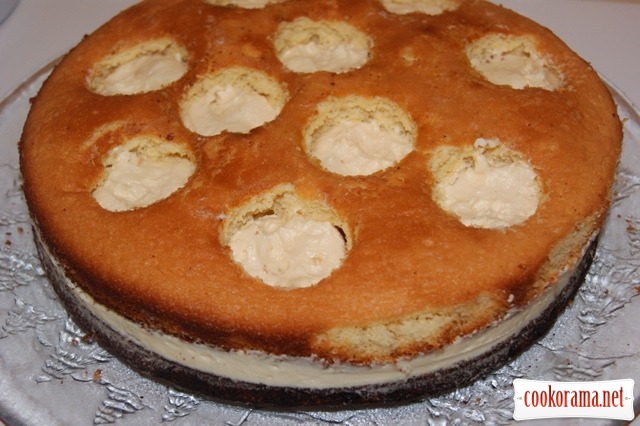 Put ring on the cake.
Dilute 80 g of jelly in 150ml of water, in which I added 2 tbsp of black currant jam, to make it darker, and filter it. Cool it completely and let it harden a little, almost like jelly. Pour recesses with this jelly, put in fridge and let it harden.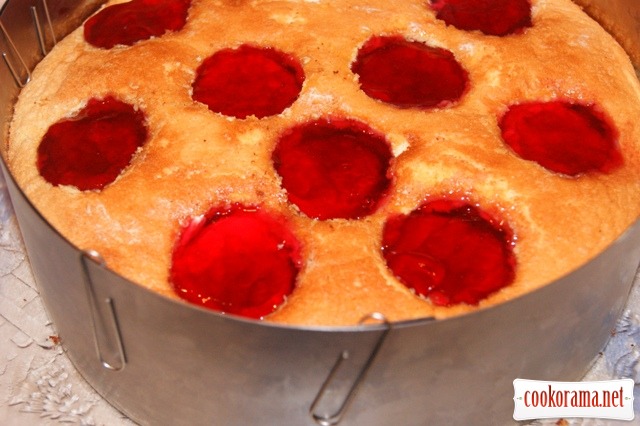 Dilute other 80 g of jelly in 150 ml of water, let it cool and become thick, and cover surface of cake with it. Leave it till complete hardening.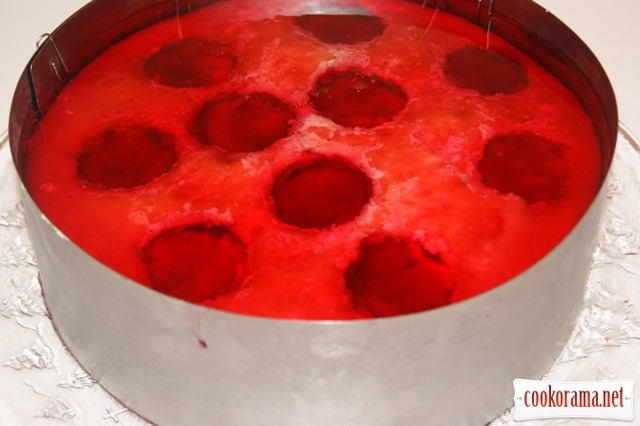 With the help of a hair dryer quickly blow with hot air ring and carefully remove the ring.
From baking paper cut off a strip equal to the height of the cake, and put on it melted in water bath or microwave chocolate.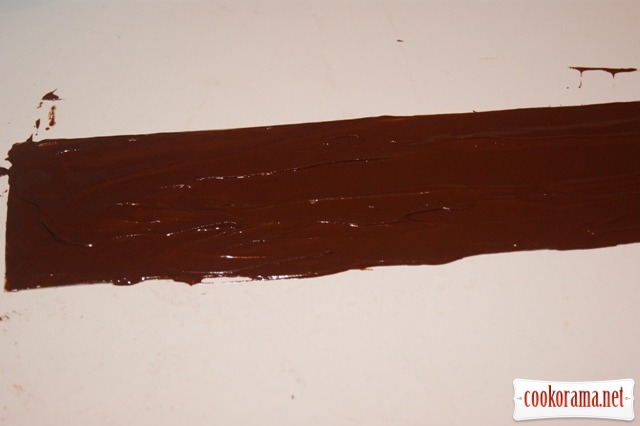 Carefully tie the cake with ribbon, pressing the sides. Put in the fridge to cool it. Then carefully remove it.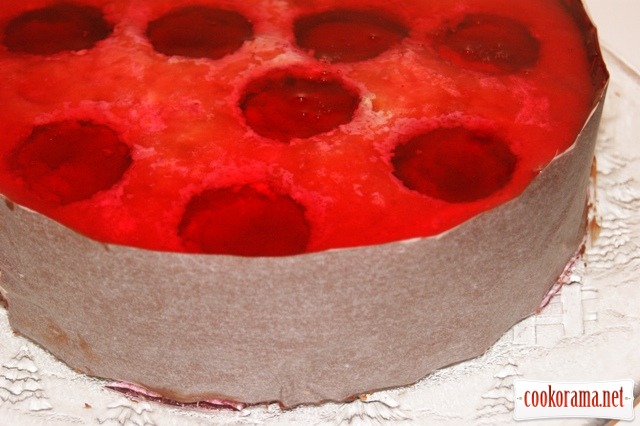 The ready cake is better to cut with hot, dry, sharp knife.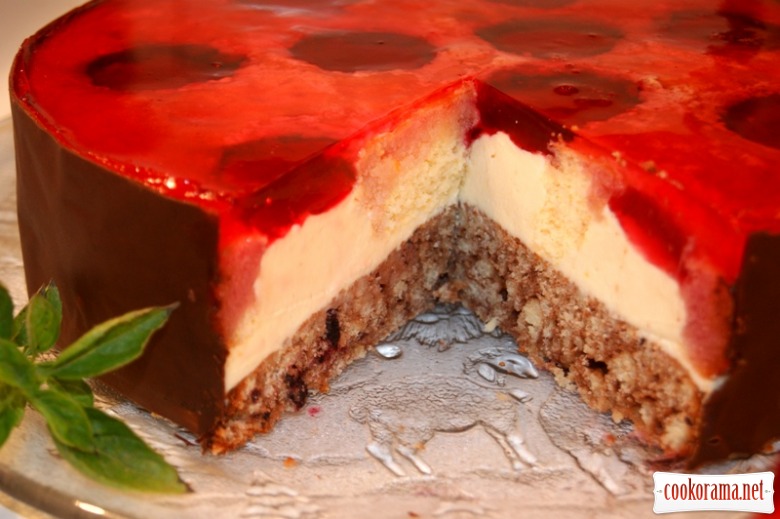 Try it!