Christmas cake: express method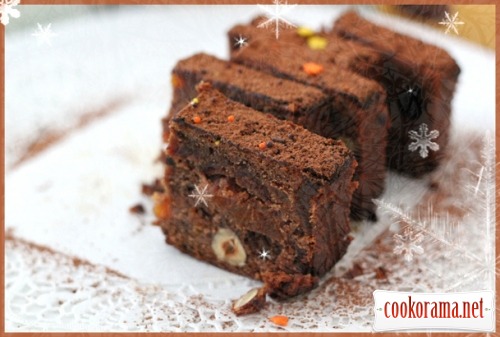 Ingridients
500 g.
100 ml
200 g.
200 g.
150 g.
2 spoon
3 шт.
150 g.
75 g.
0,5 tsp.
0,5 tsp.
Christmas cake


Preparation
For this recipe I am incredibly grateful
lapatissiere
, because it is much-much faster and easier than
traditional Christmas cake recipe
, and the result is not worse, and, this cake is wet and more intensed with right-winter flavors.
To do this you need to put buter in saucepan, rum, chopeed fruit, spices, honey, sugar, cocoa, orange juice and peel, bring all this to boil and boil over low heat for 10 min, and then let it cool. Once mixture is warm, but not too cold, add eggs, almonds, flour, soda and baking powder, stir and pour in covered with cooking paper form. That`s all! Bake this fantastic cake at 150℃ for 1-1,5 hour, depends from height of form. Let it cool completely in form, wrap in cooking paper and hide for important day.