Christmas cake "The Winter's Tale"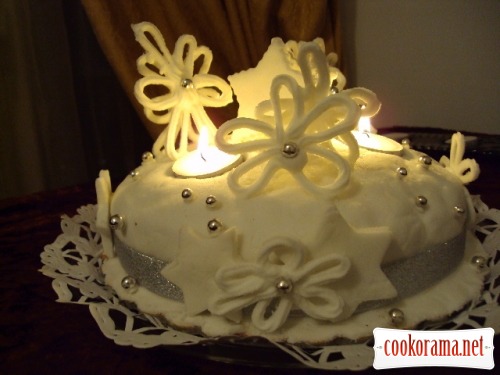 Ingridients
Ingridients
0,7 glass
1,3 glass
1 tsp.
160 g.
3 шт.
10 шт.
10 шт.
50 g.
Icing
2 шт.
600-800 g.
Preparation
1. Cake: Mix yolks with 2/3 part of sugar and vanilla into white fluffy mass. Gradually add butter.Put mass aside and mix whites with remained sugar into steep peaks. Continue mixing of yolks, add sifted flour with baking powder. At the end add meringue and mix gently by folding. Stir dried fruit and nuts with some flour, sift the excess flour through sieve and add in dough, gently stirring. Grease form with butter well. Spread dough and scroll shape. Bake at 180℃ for 50 min in preheated oven (depends on your oven, splinter must be dry). Remove readu hot cake from form and cool it.
2. Decor: I prepared stars and snowflakes beforehand. Gradually add in white sugar powder, constantly stirring. Once stable peaks appear (about 200 g of sugar powder),take less than half of mass (for snowflakes) and add some lemon juice. Draw snowflakes on the file with a syringe, decorate with beads. Leave for a night.
3. Add sugar powder (about 100 g) in remained white mass, to get soft shortbread dough. Sprinkle work surface with powder,roll layer of 3-4 mm thick and press stars of different sizes with molds. Spread stars on baking paper. And leave for a night (minimum).
4. Prepare coverage for cake before decoration. Prepare «dough», as for stars. 1-2 spoons of white mass(at the stage of snowflakes) leave for bonding parts. Roll layer of 5 mm thick, sprinkle work surface beforehand with sugar powder. Completely cover the cake with this layer. Spread surface and sides. Decorate cake with dried snowflakes, stars, ribbon and candles ( if you wish). Use aside white as glue.Let dry all this construction.
5. Ready!