Cucumber cake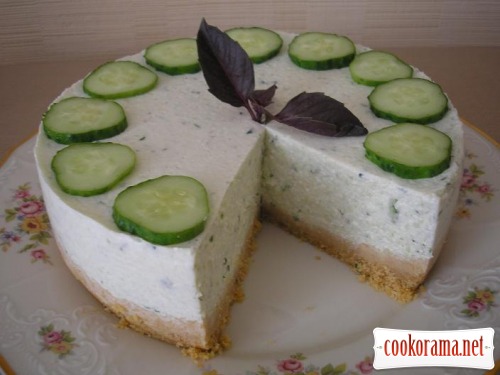 Ingridients
100 g.
200 g.
10 g.

cottage cheese (2% жирности)

200 g.
200 ml
5-6 шт.
Preparation
Grind crackers in crumbs. Melt butter on water bath and mix it with crumbs of crackers.
Cover bottom and sides of convertible form with baking paper. Spread cracker mass tightly to the bottom of form with small sides. Put in the fridge for 10-20 min.
Soak gelatin in 2 tbsp of room temperature water. Mix in blender curd, cream and cucumbers. At first I wanted to peel all the cucumbers, but then curd-cucumber layer will be white, and I wanted also to get some green. That`s why I did not peel half of cucumbers. Add salt and pepper in mass to taste.
Heat gelatin on water bath till complete dilution and mix with curd- cucumber mass.
Pour mass in form on cracker layer and put in the fridge till complete freezing (I put for 4 hours).
From frozen «cake» remove sides, carefully remove paper, shift on dish and decorate as you wish.