Warm salad with chanterelles and fennel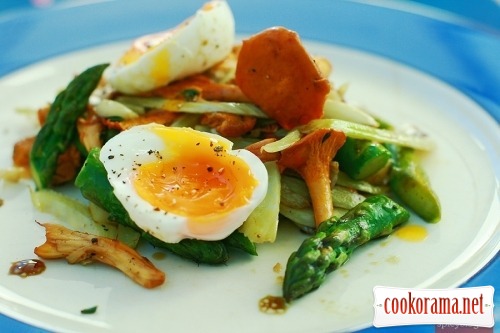 Ingridients
2 шт.
200 g.
4 шт.
2 шт.
0,5 шт.
50 g.
September, in addition to the capricious weather and gray mood, gives us great products that should definitely enrich our autumn diet. Some time ago it was a conversation about white mushrooms, this time chanterelles are in the spotlight. In my opinion, these mushrooms have a totally unique flavor that is memorized and creates a sense of impending meal features. Fennel in September is especially juicy and full of flavor and freshness. His slight bitterness perfectly balances the sweetness of chanterelles. Asparagus is a useful addition to a salad, and boiled egg add satiety.


Preparation
To cook the eggs, put them in a saucepan with cold water and bring to a boil. Boil for 3-4 min. Cool under cold water. I often add boiled eggs in salads and in general to vegetables. I just can not stand before the yolk, connecting with the juice of vegetables or salad dressing, turns into a velvety sauce, which brings the dish to the next level.
Heat 2 tablespoons of olive oil in a frying pan over high heat. Add chanterelles and salt them. Fry for 3 min, then add chopped asparagus. The lower, «wooden» the end of the stalk of asparagus should be cut off. Fry all together about 5 min, until the liquid is evaporated from the mushrooms, and they will gain a brown-golden color.
Add butter, garlic and a tablespoon of water. When water evaporates, chanterelles and asparagus will be in a certain similarity of sauce. Add to the pan thinly sliced fennel and remove from heat. Salt, pepper, season with a teaspoon of white wine vinegar and a tablespoon of pumpkin oil, or olive.
Peel the eggs. Put warm salad on a plate, place on top halves of egg.