Marinated fish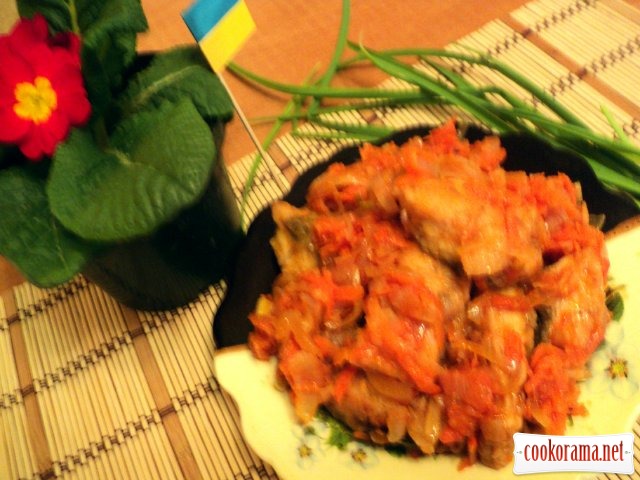 Ingridients
Ingridients
2 kg
100 g.
100 g.
Marinade:
200 g.
200 g.
50 g.
50 g.
2 spoon
2 spoon
2 шт.
2-3 шт.
50 g.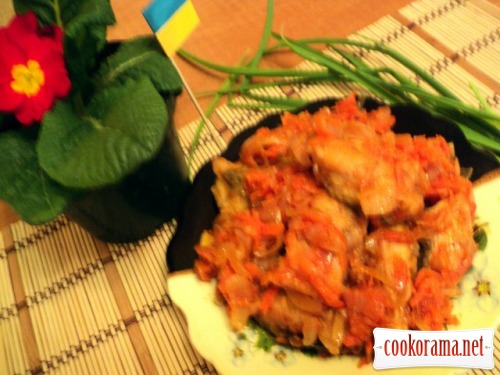 In Ukrainian cuisine, along with meat dishes and vegetables are very popular fish dishes. From river fish, and in southern areas marine fish. Recipe for marinated fish I know from my childhood, it was often prepared by mom and grandmother. The fish was different, but always it was delicious. And I recommend you prepare this dish!

Preparation</6>

Clean fish, prepare fillet with skin and cut in portion pieces. Sprinkle with salt and fish spice, let it stand for 10-15 min.

Roll pieces of fish in flour and fry in pan with oil.

For marinade, cut onion in slices and fry till softness in pan with oil.

Add grated carrot, parsley and celery root, stew for 10 min.

Add tomato paste, salt, sugar, simmer 5 minutes. Then add hot water or fish broth, spices and simmer on low heat 10 minutes.

Spread fried fish in saucepan by layers, pouring with marinade. Heat well for 5 min. Cool it to room temperature and leave in the fridge for 2-3 h.

By serving, you can sprinkle with finely chopped onion.
Bon Appetite!