Fish in Moroccan style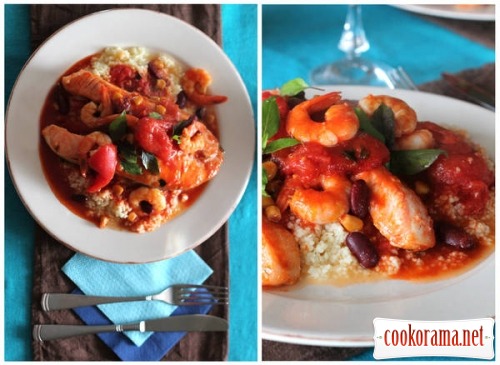 Ingridients
150 g.
2 шт.
1 шт.
0,5 tsp.
300 g.
200 g.
400 g.
2 шт.
Preparation
Squeeze juice from one lemon in bowl, add few spoons of olive oil, pour couscous, salt, pepper, mix it, pour with boiling water, to cover couscous a bit, cover and leave for 10 min.
Heat few spoons of oil in pan, fry pressed garlic, finely chopped chili and 3/4 of basil, cinnamon. Fry for a few minutes, put fillet on top, shrimps, add tomatoes, beans and squeeze there another lemon. Cover with lid, bring to boil and cook over low heat for 8 min, till fish is ready.
Spread couscous on plate, fish and sauce, sprinkle with remained basil. It`s very tasty. With a glass of dry white wine dinner turns into a banquet.
The recipe is from book «Ministry of Food»
632

07 October 2010, 16:29