Mousse from chocolate and water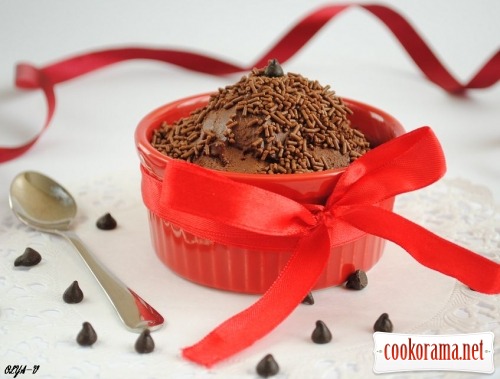 Ingridients


Recipe from the site «Cook» from the cranberries in sugar. This recipe intrigued me after watching the show «Kitchen Chemistry» on the Discovery Channel, and after I saw it on «Cook»decided to try by all means.

Preparation
Put saucepan with water on heat (it will be steam bath).
In a smaller bowl break chocolate and add water, put on bath, heat, stirring, to melt chocolate completely, chocolate mass should not overcook and boil.
Once chocolate completely melts turn off the heat and let it as it is, do not remove from bath, not to cool chocolate mass down.
In large bowl put ice and pour cold water, put in icy water saucepan with chocolate, mix gradually increasing speed.
In first 3 min there won`t be any visible changes, but then mass suddenly begins to thicken, once it happens stop mixing, and spread mousse in portion bowls.
If mix mass not for too long you`ll get light and airy cream-mousse, if to mix longer mass thickens a lot and you can prepare from it sweets «truffles».
Bon Appetite!