Salmon mousse with shrimps and caviar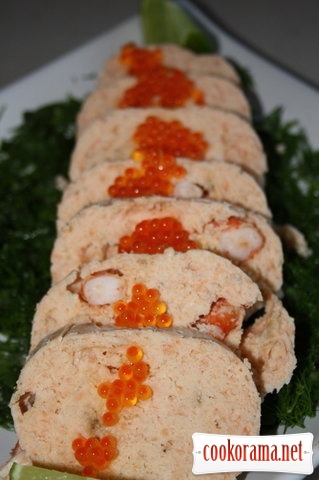 Ingridients
1,2 kg
300 g.
2 шт.
50 ml
2 шт.
30 g.
1 шт.
0,5 bunch
0,5 bunch
Preparation
1. Wash fillet and remove bones, then cool, and grind in blender or meat grinder. Mass should be smooth and almost creamy. Add 2 eggs, vine. Mix in blender. Salt and pepper.
2. Fry in pan shrimps with chopped garlic. Let it cool a bit and mix with fish mince.
3. Put on table rectangular piece of food film, spread on it 1/3 of mince, wrap edges of film, to make a roll. Tie the edges well (I use cotton rope 0,5 сm) Do the same for another 2 times. You`ll get 3 small sausages.
4. Pour water in saucepan and put on fire, bring to a boil, уменьшаем reduce heat to minimum. Water should not boil!!! Put in hot water sausages and press them with saucer or something heavy, not to let them float. Boil for 1 hour.
5. Take sausages out from water. Carefully remove film. Wrap in foil and let it rest for 20 min.
6. Grind in blender dill, parsley and basil, add olive oil (3 tbsp) and lemon juice. Spread the resulting mass on dish. Top with sliced fish roll, decorate with caviar and lime slices, sprinkle with lemon juice. Bon Appetite!
Note:
You can also cook roll in steamer at 90℃ and 100% moisture, cook for 60 min.