Biscuit "chocolate in boiling water"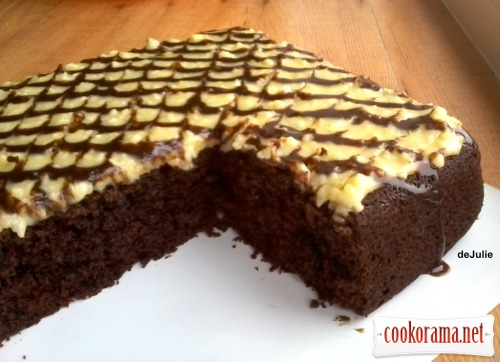 Ingridients
Dough
2 glass
1,5 glass
1 tsp.
1 tsp.
5 spoon
2 шт.
1 glass
1 tsp.
0,3 spoon
1 glass
Cream
400 g.
2 шт.
2 spoon
100 g.
Finally, I tried to bake «chocolate in boiling water». And it was worth it! In fact, very delicious slightly moist chocolate biscuit. And in combination with coconut cream — just a heavenly pleasure ))

Preparation
Prepare form, cover it with paper or grease with butter. Heat the oven at 180℃.
Separately mix all dry ingredients (first 5 in list).
Slightly mix eggs, add oil and vanilla, then you need to add alternately flour and milk, stirring, start and finish with flour. At the end pour glas of boiling water and all mix well again. You`ll get batter. Pour it in form and bake at 180 С for 40 min (check with toothpick in the end, it should be dry, with a small amount of wet crumbs, but at the same time do not dry it). By the way, biscuit increases twice accurately!
For cream:
Mix all in saucepan with thick bottom and boil, stirring with spoon, on a low heat for 5 min. Watch, for yolk not to curl. You get thick coconut cream.
I made half of portion, but next time I will boldly cook a full one and smear with cream inside.