Shortbread sour cream-cake with fruits and berries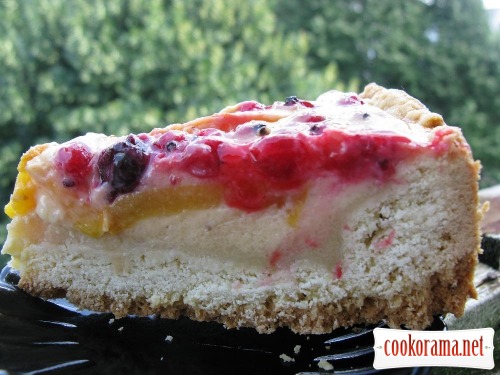 Ingridients
Dough
100 g.
50-100 g.
2 шт.
2 spoon
0,5 tsp.
550 ml
Pouring
400 ml
6 spoon
2 шт.
2 spoon
Filling
1 glass
2 spoon
Preparation
Mix butter with sugar.
Add rest of ingredients, mix well, gradually add flour.
Knead soft, elastic, not sticky dough.
Put in the fridge for 30 min.
Combine and mix well all the ingredients for filling, I mixed in blender, because decided to add some berries for color.
Take dough out from fridge and spread it in form, I got 23 сm., make sides.
Sprinkle bottom with starch, because fruit will produce juice and dough won`t bake well.
Slice peach and spread it on the bottom, sprinkle with berries, I have frozen.
Pour with filling.
Heat the oven at 180 — 200℃ and bake for 40 min.
Cool, and only after cut.
Bon Appetite

My favorite dough for shortbread cakes, almost always use it, just change the middles.
Top of recipe "Shortbread sour cream-cake with fruits and berries"