Cake "Bird's milk" with fruits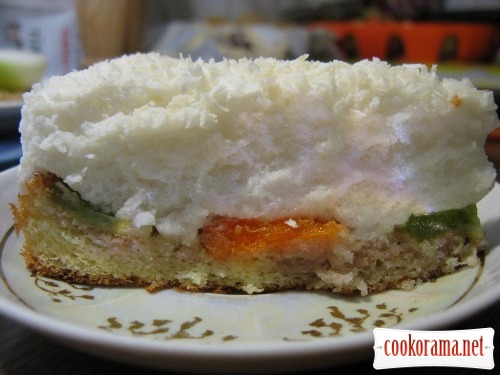 Ingridients
Biscuit
2 шт.
3 spoon
3 spoon
"Bird's milk"
4-5 шт.
4-5 spoon
150 ml
20 g.

fruits (season fruits, I've got kiwi and apricot)
Preparation
Grease baking form, I`ve got 23, with butter and sprinkle with flour, put in the fridge.
Heat the oven at 180 — 200℃.
Stir eggs with mixer, gradually add sugar, stirring. All the process should take for about 8 min.
Add flour and quickly, but carefully,from edges in the middle, from top to bottom mix, to avoid clumps.
Pour dough in form and in the oven, it bakes quickly.
Let it cool in form in the oven.
I have convertible form, remove sides, release cake from bottom, but donot take it from form, put the sides back.
Soak dough with syrup, I used strawberry. It`s not necessary, but we love «wet» biscuits.
Cut fruit and spread on dough. Take more fruits than I have on photo.
Add gelatin in water or juice and heat, but avoid boiling. I do this in microwave. Cool it.
Mix whites for 4 min. Then gradually add sugar and mix for another 5 min.
Now take gelatin with water and stirring, carefully pour it to whites, mix well for about 4 — 5 min.
Pour on fruits, decorate as you wish, I sprinkled with coconut.
Send into the refrigerator for a few hours.
Bon Appetite

I made this cake on husbands Saint`s day, 28 July — Vladimir.
Very tasty and easy cake. I came to the conclusion that the next time I will do double portion in a larger form, because all liked very much.
And also want to celebrate by this cake my personal holiday —
I`M WITH COOKORAMA FOR A YEAR!!!
Hurrah!!! Hurrah!!! Hurrah!!!
Here are my achievements:
165 published records
1877 comments
I won three gifts: set of spices, blender and cup.
And also a lot of positive emotions and a lot of new dishes on the family table.
I look and think that it was written quite much recipes, but could be more, so I only had 24 hours in inday, need to improve the situation, but have not figured out how to stretch this day

I like to write comments, look for new recipes, but do not wish to comment on recipes for users who do not comment on my recipes. And my friends left me alone, lost somewhere

Good people, let's talk, so it tastes better and more interesting

And presents are beautiful, love them very much, I will continue to try

And I want you to show my candy made composition, made a gift to a friend. Do not judge stricly, that was first job. Basket also my job, wove it with newspaper sticks and then processed decoupage technique…