Pumpkin pie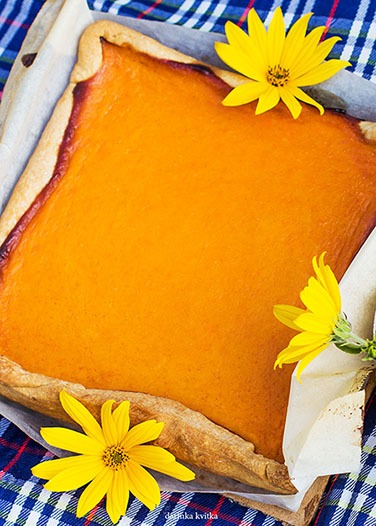 Ingridients
Pumpkin filling
500 g.
150 g.
3 шт.
1 шт.
15 g.
2 spoon
Shortcrust dough
125 g.
200 g.
1 шт.
50 ml
100 g.
0,25 tsp.
Preparation

1. Peel pumpkin, cut coarsely and boil for 15 min in boiling water. It should become soft.
2. Put boiled pumpkin in colander and let the excess liquid drain, cool down. Make puree from it, adding sugar, pinch of ground nutmeg, lemon zest and ground cinnamon.
3. Separate yolk from one egg and leave it for dough. Add white with 3 whole eggs to pumpkin puree. Add 2 spoons of semolina. Stirring well, bring pumpkin mass to smooth consistency.
4. Mix in small bowl egg yolk with water and pit in the fridge.
5. Cut butter in small pieces.
6. Mix in large bowl flour, sugar and salt. Add butter and stir. Mixture should resemble coarsely ground flour.
7. Stir dough, slowly adding cooled yolk with water.
8. Let dough rest in fridge for 20 min.
9. Heat the oven to 190°С.
10. Roll dough and shift it in form, forming bottom and walls of future pie. Bake till light-straw color (for 15 min).
11. Turn oven to a minimum heat (130-150°С). Pour stuffing and bake for another 40 min. Ready stuffing should not be liquid.
12. Remove pie from oven and let it cool a bit.

Bon Appetite!
799

20 October 2014, 21:52