Pumpkin pie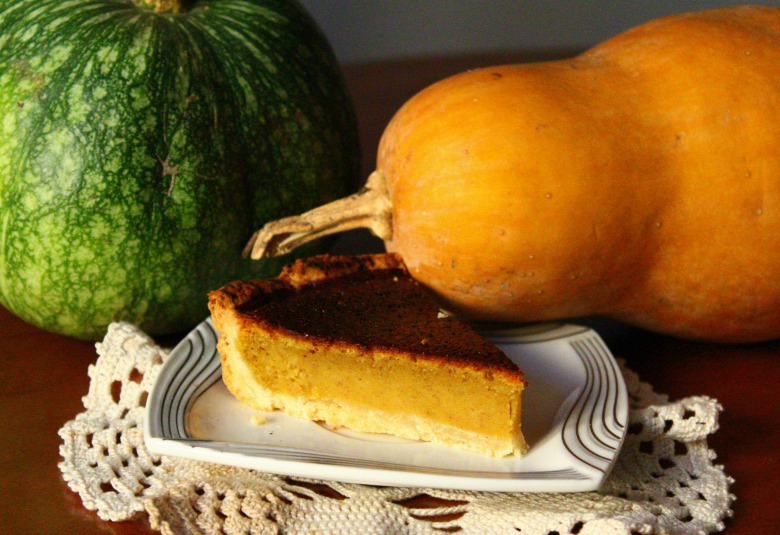 Ingridients
Filling
4 шт.
470 g.
165 g.
250 ml
4 spoon
Dough
200 g.
1 spoon
125 g.
1-3 spoon
Pumpkins this year are fantastic! You should try to prepare and eat the best dishes from them So I offer to cook pumpkin pie. It will certainly help you to create a festive mood in the middle of the week and be a festive table decoration. Just a few ingredients and finished masterpiece. It is so simple in execution, so you do not even need to use a mixer. Prepare it with children — they will be pleased and you surprised with simplicity of technique.

Preparation
Dough:
Mix flour, sugar, salt. Mix with butter, to get crumbs. Add spoons of icy water. Depending from butter, you may need from 1 to 3 spoons.
Spread dough on form, make sides and put in fridge or freezer for about 30 min. Meanwhile, heat the oven to 190 C.
Remove from, cover with parchment and pour something heavy (raw rice, beans, legumes) and bake for 20 min. We reduce temperature to 165 C.
Stuffing:
The easiest part in preparation

Separate yolk from white in one egg. We don`t knead white. Stir in bowl puree, sugar, sour cream, whole eggs and yolk, spices, flour and salt into smooth state. Pour on dough.
The recipe says, that cream should be taken. Cream can be easily replaced by sour cream, but not bitter one.
Bake for about 50 min. Stuffing should be liquid.
Pie should be completely cooled before serving.
Do not be afraid when you see ruddy top of pie — for this pastry it is normal. Taste won`t be bitter

Bon Appetite!
499

27 October 2014, 16:53