Plyatsok "Rainbow applepie"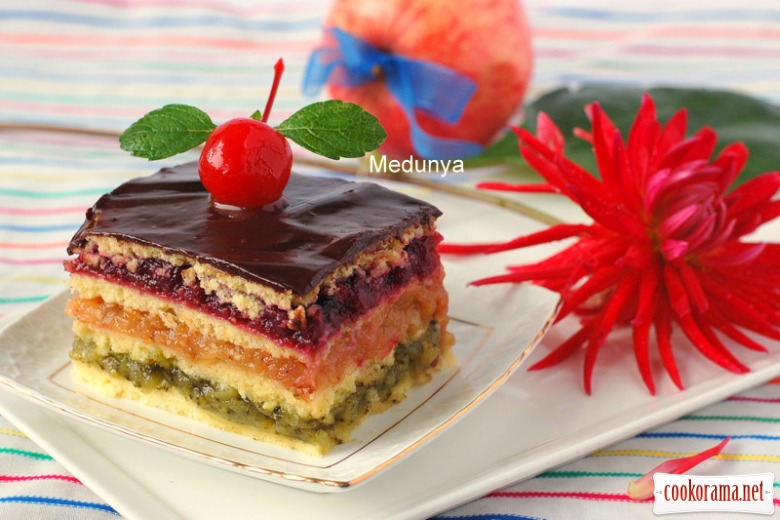 Ingridients
Cream
2 kg
150 g.
150 g.
150 g.
100 g.
10 g.
1 tsp.
45 g.
2 spoon
Dough
3 шт.
200 g.
100 g.
1 spoon
1 spoon
600 g.
Chocolate glaze
4 spoon
3 spoon
2 spoon
1 spoon
40 g.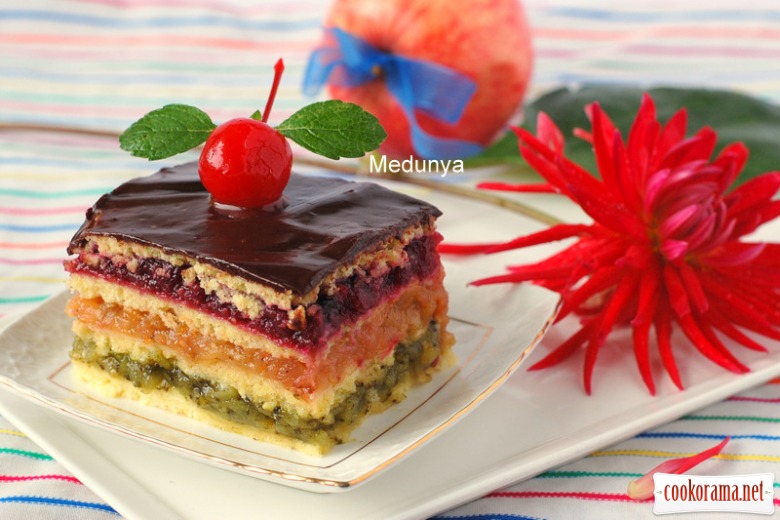 Wonderful juicy plyatsok filled with a variety of flavors and aromas. Beautiful and delicate. Dough — from records of my old notebook of recipes. Filling — my fantasy.

Preparation
For dough mix butter with sugar into fluffy mass: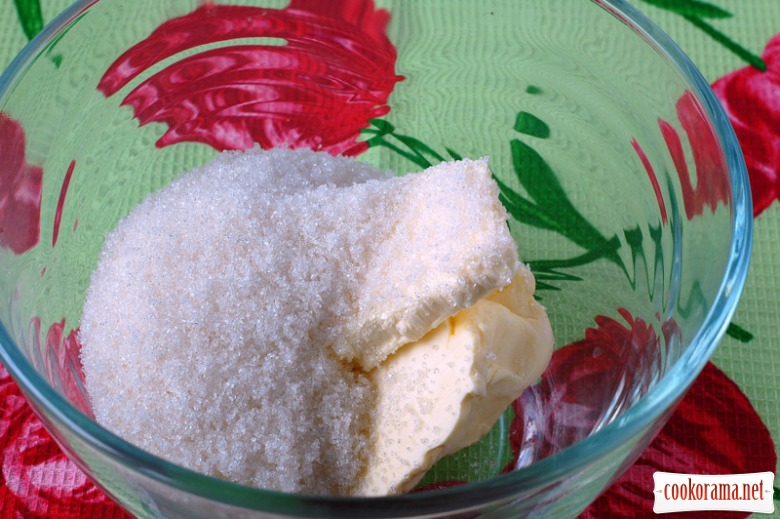 Add eggs one by one, mixing well: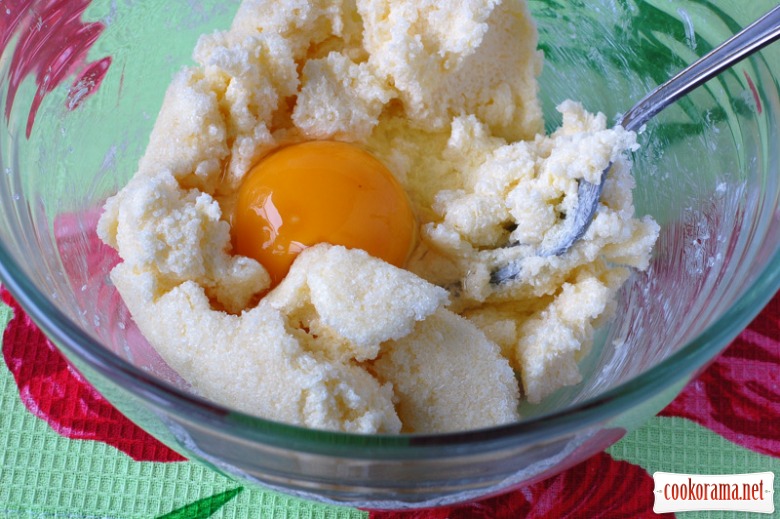 Add sour cream and baking powder. Stir it: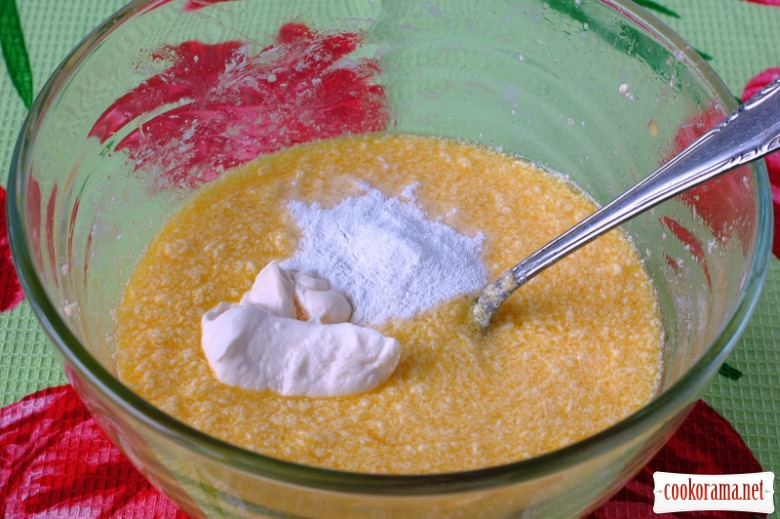 Add sifted flour. Stir dough: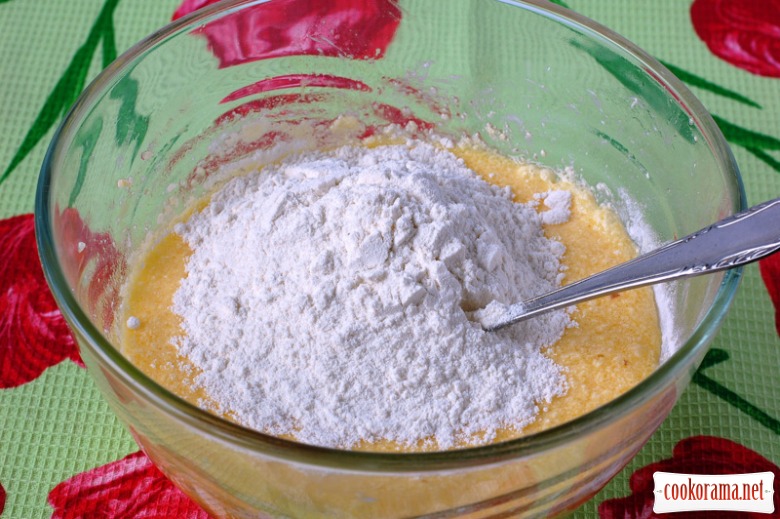 Dough should be of such consistency: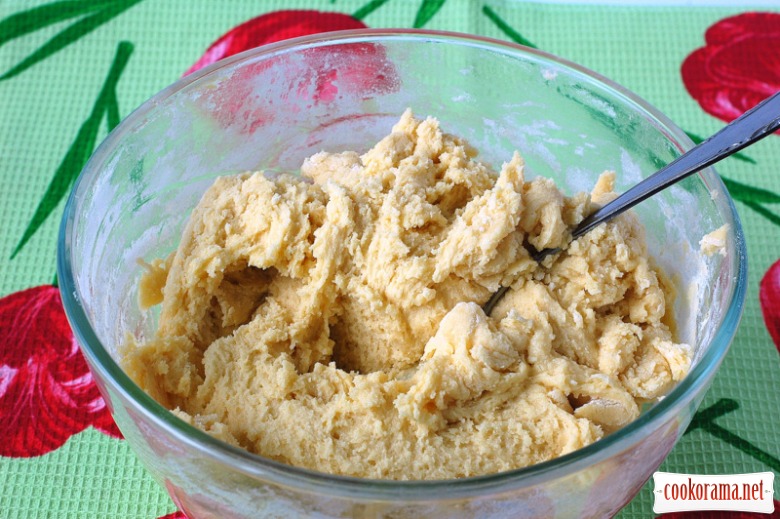 Divide dough in 4 parts. Cover form (22х22 cm) with parchment paper and slightly grease with butter. Spread 1\4 of dough. Spread evenly at the bottom of form. Easy to do this, covering dough on top with food cellophan and by hands spread dough on top of cellophane. Then cellophane is easily removed: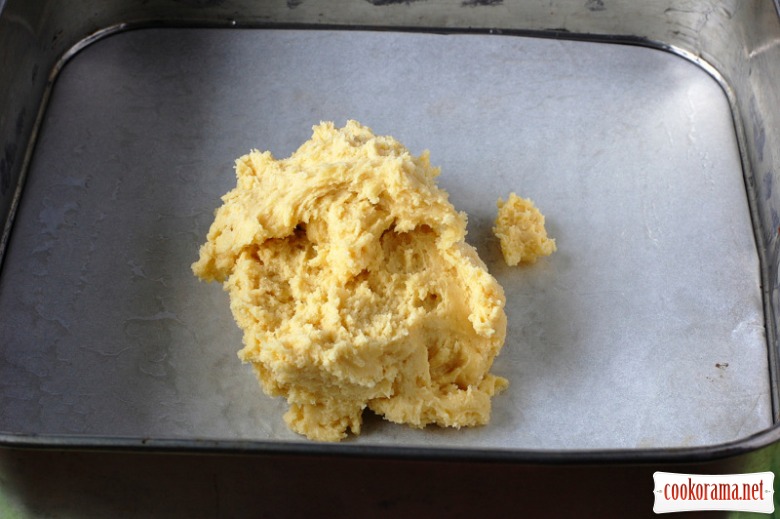 Bake for 18-20 min at 180 ℃ till light golden color. Bake so 4 flat cakes.
Meanwhile prepare cream: peel apples, grate, mix with cream (sour cream), sugar and boil for 5-7 minutes: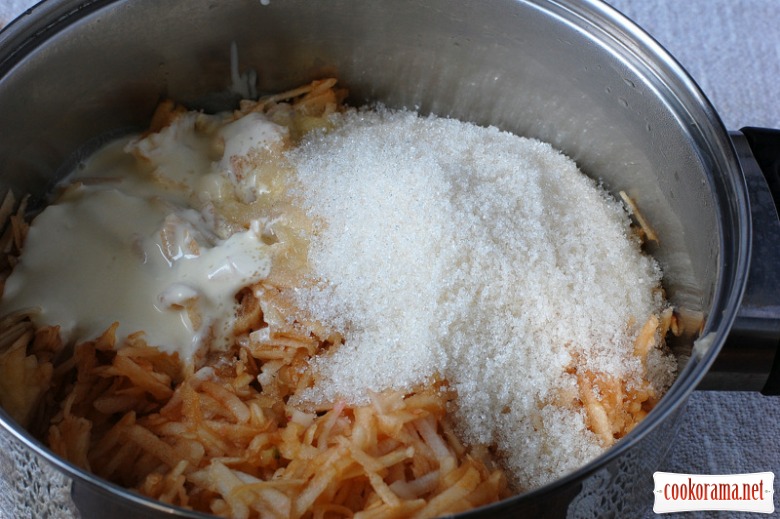 Further, add instant gelatin into apple mass and boil for 1-2 minutes until complete dilution of gelatin: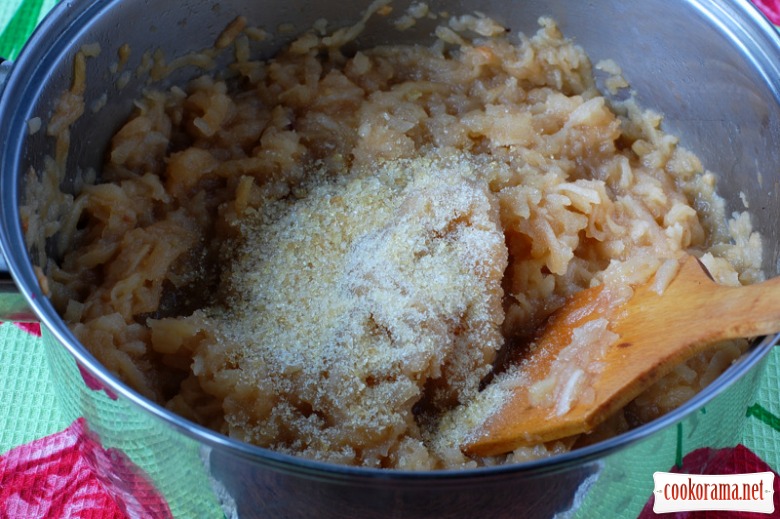 Divide apple mass in 3 equal parts. Add spinach puree to first(I got frozen) part. Boil for 1 min: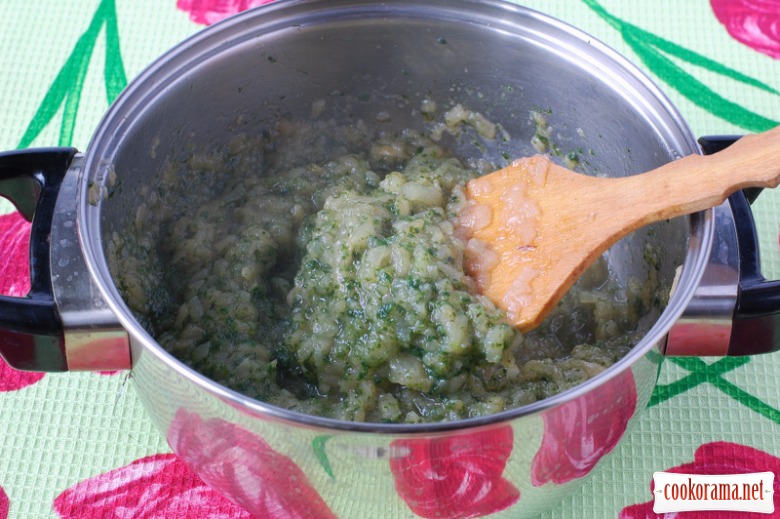 Add vanilla sugar. Stir it: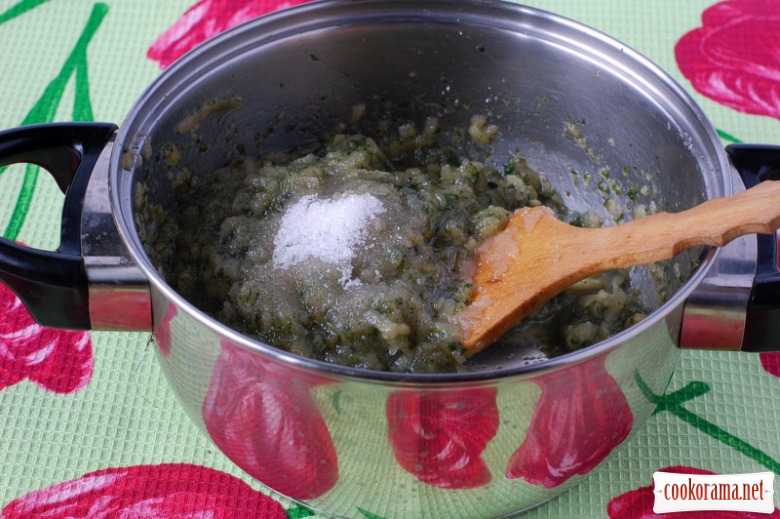 Add pumpkin puree to second part (I used frozen) and cinnamon. Boil for 1 min: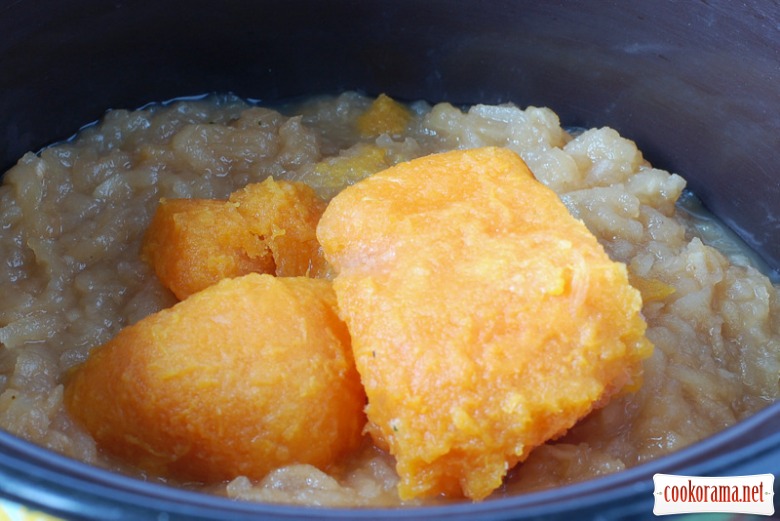 In third — blueberries (I used frozen). Boil for 1 min: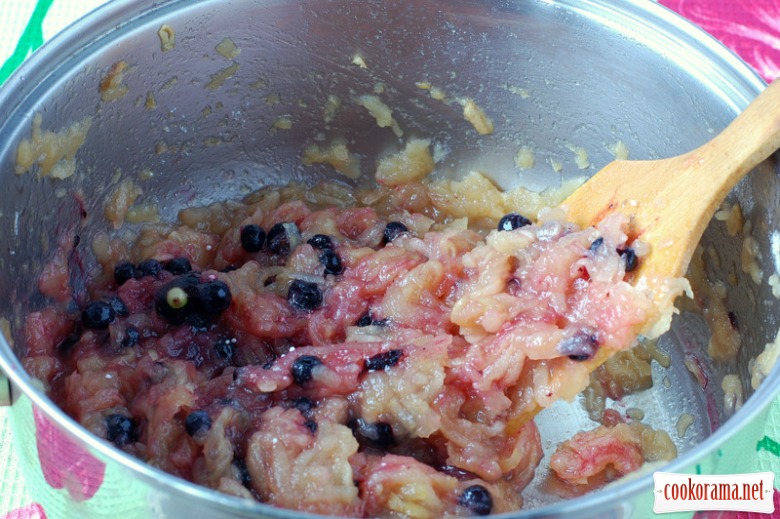 Cover first flat cake with warm apple-spinach cream: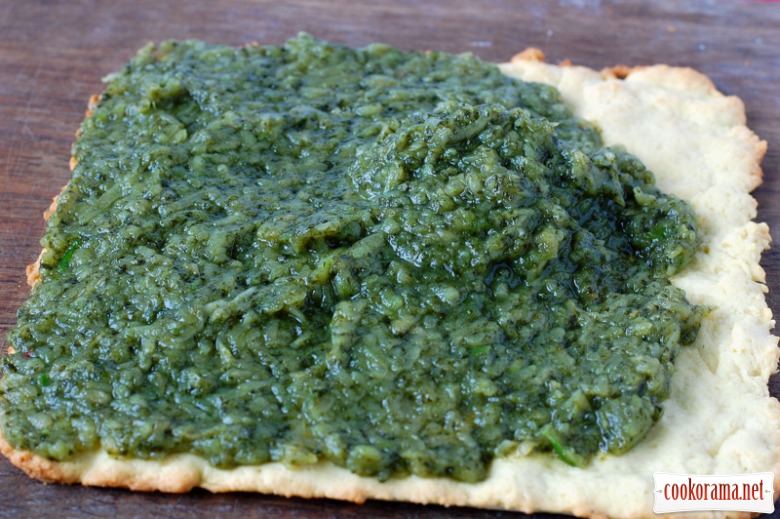 Cover with second baked flat cake. Cover with apple-pumpkin cream: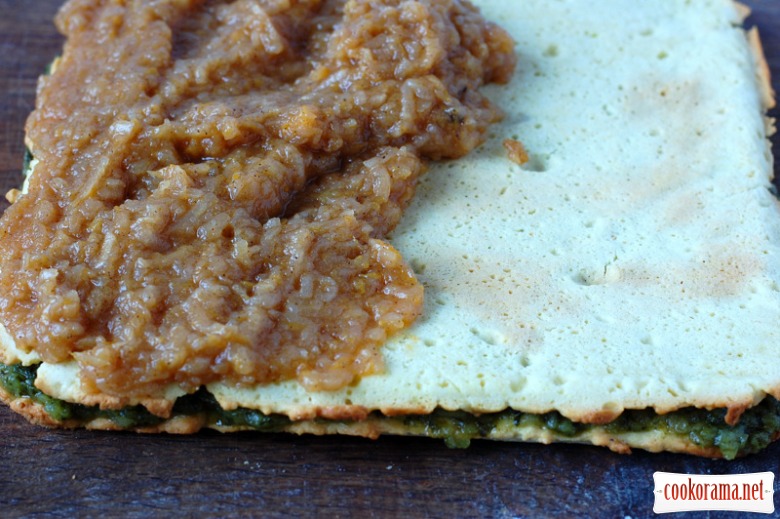 Cover with third flat cake and smear it with hot apple- blueberry cream. Cover with fourth flat cake.
For chocolate fudge:
Heat cream, sugar, cocoa, butter until sugar is dissolved. Add the pieces of chocolate. Stir until melting of chocolate: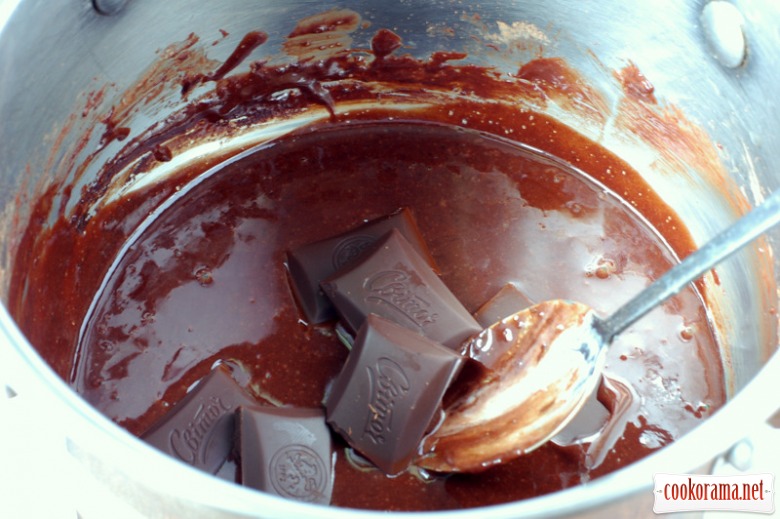 Top cake with warm icing. Let it harden in the frige at least 2 hours.
It is better to leave for a night:
Before serving, cut flat cake into square pieces-cakes: