Plyatsok "Berry puff pastry"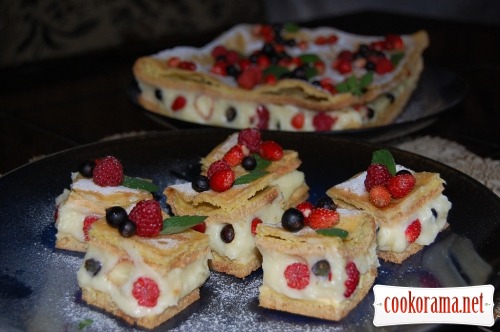 Ingridients
Dough
250 g.
100 g.
200 g.
5 шт.
10 g.
Cream
500 g.
200 g.
4 шт.
150 g.
10 g.
80 g.
100 g.
200 g.

Very tasty plyatsok! One big puff pastry!
PREPARATION:
Boil butter with water. Add flour in hot mixture, rub well and wait to become it warm:


Constantly stirring with mixer, add one by one eggs and powder for cookies:


Smear form with butter, sprinkle with semolina and put 1\2 of dough, bake for 25-30 min at 180-200℃. I have a large form – for all oven, so bake at one stage and then cut dough in 2 parts:


CREAM: Boil 1\2 of milk with sugar and butter:


Mix all the rest and pour in milk mixture. Boil for 2-3 min:


Spread it hot on cake, sprinkle with berries and cover with other flat cake:


Plyatsok is hassle-free, quick to prepare and very tasty!
Bon Appetite!