Lemon-pumpkin ricotta tart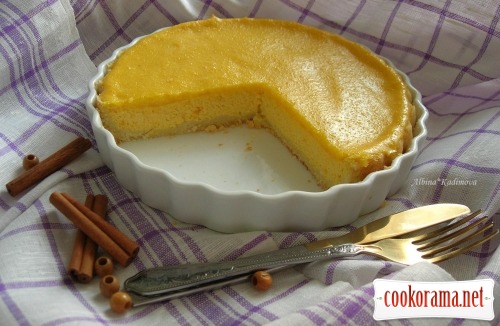 Ingridients
Dough
150 g.
4 spoon
1,5 glass
Filling
500 g.
400 g.

sour cream (25% жирности)

250 g.
1 glass
3 шт.
10 g.
Glaze
2 шт.
1,5 glass
1 шт.
1 spoon

My mom literally «flunked» me with pumpkins)))) Nowhere to go, one must somewhere use it. And I decided: let`s make from it, such a cake, so even with favorite homemade cheese — ricotta.)))

Preparation
At first prepare ricotta cheese :
Heat milk on stove, add salt and sugar. Then, when it starts to boil add lemon juice. When milk starts to " clot " remove resulted white mass with a slotted spoon and place in a sieve, leave for a night, to drain excess " whey ".
Cheese is ready!
Then proceed to the short pastry:
Mix butter with sugar, add salt, nutmeg, cinnamon. Mix all well and gradually add flour, to get crumby dough.
Pressing on bottom of pan, spread our dough.
Now filling:
Cut pumpkin in small pieces, boil it, drain water, grind in blender into puree. Combine cheese with sugar, vanilla sugar and eggs, mix all well. Mix sour cream and add to cheese mass. Also add pumpkin and lemon peel to mass. Mix all and spread our dough. Bake in heated at 180 C oven for about 40 min. The middle should «shake» a bit
While our tart is baking, prepare glaze:
For this, grind in blender one lemon, mix it with eggs and sugar, pour all in saucepan and put on stove, over a low heat. Constantly stirring, bring mass to a boil, gradually mass begins to thicken, then carefully add starch, vanillin and quickly stirring, remove saucepan from heat. Cool mass and pour cake with it. It is advisable to leave the cake for a night, to dry and harden glaze.
That`s all! Bon Appetite!