Chocolate cake with coconut-curd balls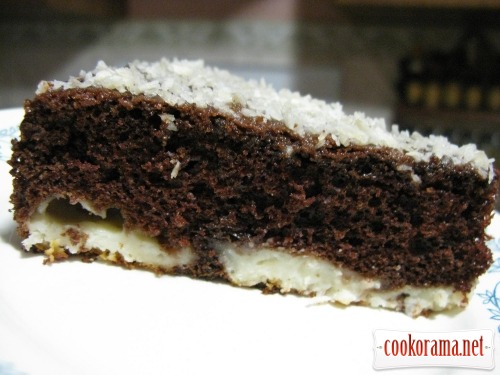 Ingridients
Dough
3 шт.
75 g.
25 g.
100 g.
45 ml
0,5 tsp.
Cream
20 g.
3-4 spoon
175 ml
25 g.
150 g.
Ingridients
2 шт.
Preparation
Turn on the oven, heat at 180 — 200℃ and let it heat.
Grease split form, I got 23 сm, with butter and sprinkle with flour, put in the fridge.
Cream
Combine all the ingredients for cream( except curd ) in saucepan and stir well, to avoid clumps.
Put over medium heat and bring to a boil.
When boils, reduce heat to minimum and boil for 1 — 2 min, to thicken well.
Cool it, better quickly, to avoid " crust "
Stir curd into puree and add to cream, stir well, fill culinary syringe or package.
Dough
I took the recipe of dough
from here
, if you are interested, you can see there photos of cut.
Separate eggs in yolks and whites.
Combine separately in bowl sifted flour, soda, cocoa and starch, stir it.
Prepare sugar.
Add to whites pinch of salt and lemon acid, also icy water and mixinto steep foam, about 5 min. Start to mix from low speeds.
Then gradually in few portions add sugar, constantly stirring, altogether for about 5 min.
Turn off the mixer, add yolks and mix at minimal speeds.
Add dry components and mix at low speeds again, but not long.
Pour in form and squeeze balls of cream all over the surface. Put more cream, it is enough of it. On photo it seems as cream is only on the top of cake, but in reality it reaches the bottom.
Put in the oven for about 30 — 35 min, check the readiness with wooden stick.
Grease yet hot cake with soaking: crush candies, pour 50 ml of hot water and melt.
Next top with jam or honey and sprinkle with coconut.
Or decorate as you wish.
Bon Appetite to all

Today is my son`s Yuri Birthday — 5 years !!!
so this cake I dedicate to him

This is our symbolic cake, will celebrate on Sunday, that then will be the main cake.
For creation of this cake I was inspired by recipe from liliach
Chocolate-coconut cake / Schoko — Kokos Duo — Schnitten