Cake "Peaches in chocolate"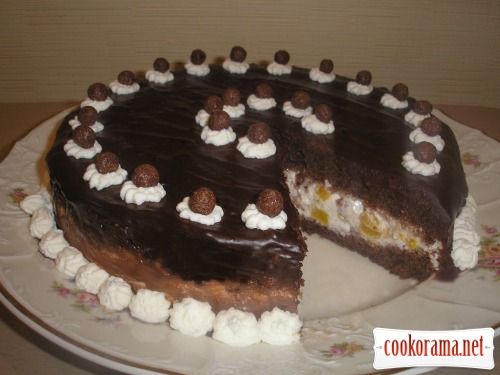 Ingridients
Biscuit
1 glass
1 glass
4 шт.
10 g.
3 spoon
Cream and decorations
400 g.
100 g.
800 g.
7 g.
100 g.
50 ml
1 tsp.
Preparation
Prepare biscuit cake. For this mix sugar, flour, eggs, baking powder, vanilla sugar. Cover the bottom of convertible form with baking paper. Grease bottom and sides of form with butter (or margarine). Pour mass in form and bake at 180℃ for 30 min. Cool it. Cut in two halves.
While cake is baking, prepare cream. Dilute gelatin in some sour cream. Let it stay for 15-20 min. Add rest of sour cream, sugar powder. Mix well. Drain all liquid from peaches and dice them. Mix peaches with sour cream.
Assembly cake at side of convertible form. Put the lower part of cake in form, top with all cream. Cover with the other half of cake. Put cake in the fridge for 4 hours, better for a night.
Remove sides from cake. Melt chocolate for décor on water bath, add cream and butter.
Pour cake with this mass. Put cake in the fridge for 30 min, ti freeze the chocolate. Decorate as you wish.