Cakes with blackberries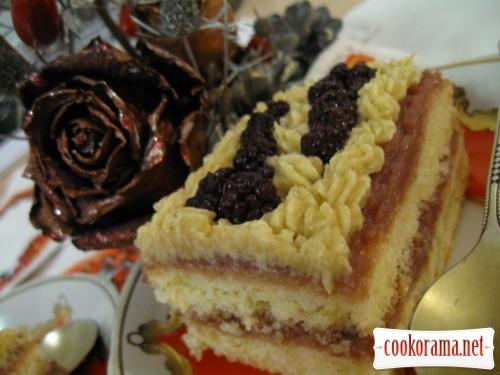 Ingridients
Dough
2 шт.
125 g.
0,5 glass
5 g.
7 spoon
Cream
3 шт.
3 spoon
2 spoon
1 glass
50 g.
10 g.
Preparation
Mix margarine with sugar.
Add egg yolks, flour, cookie powder – stir it.
Mix whites into steep foam and add in dough in few stages.
Cover baking sheet with parchment, shift dough, spread it.
Bake in the oven at 180℃ for 20 min.
Shift on board, remove parchment.
Peel apples, grate them. Put in saucepan with thick bottom grated apples, sugar, sour cream and boil till thickening (45-60 min) Let it cool.
Separate blackberries from juice(about 100 ml).
1 tsp of gelatin pour with 50 ml of juice, let it swell.
Mix 50 g of butter, add by spoons 2 tbsp of boiled apples and stir.
Shift in pastry bag and in the fridge.
Heat gelatin, to dissolve (do not boil), add rest of juice, let it cool a bit and mix with rest of boiled apples.
Cut flat cake in half, smear each flat cake with apple-blackberry mixture, put one on another and outline with knife borders of cakes.
Decorate cakes with cream from pastry bag and blackberries, put in the fridge for 15-20 min, then cut it, shift on plate or board and again in the fridge for 30 min.
You get light and gentle dessert.
Bon Appetite.