Tiramisu for children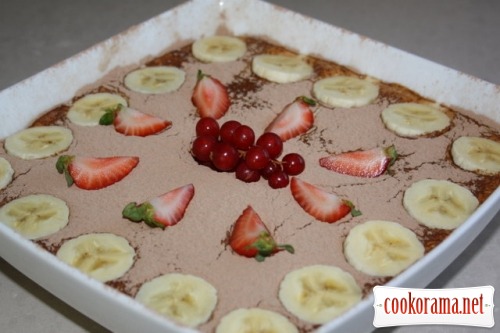 Ingridients
250 g.
16 шт.
2 шт.
70 g.
360 g.
Tiramisù, literally — «carry me up»

Preparation
The main advantage of tiramisu is that is not baked but cooled in the refrigerator. Tiramisu is soft by consistency, as pudding.
1. Separate yolks from whites. Mix yolks with sugar, add cheese and mix again into smooth consistency. Separately mix whites into thick foam and add in egg-cheese cream.
2. It is better to combine tiramisu in deep bowl or in portion glasses. Dip cookies in warm cocoa (very quickly otherwise cookies will fall apart and turn into mush) and spread first layer, top with half of cream, then again layer if cookies (soaked in cocoa), then again cream. Put all in the fridge for 1 hour. Then sprinkle cocoa powder and decorate with fruit. And remove again the fridge, till arrival of gueast.
Bon Appetite!
698

22 November 2010, 00:56