Cake "A la Tiramisu"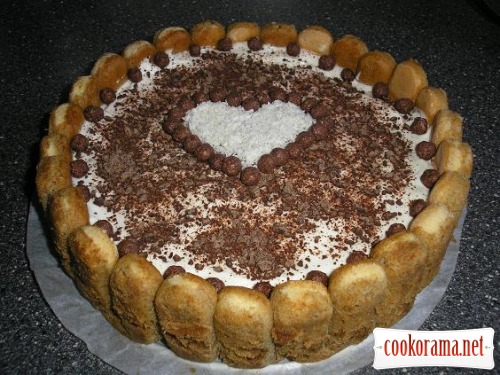 Ingridients
300 g.
400 g.
10 g.

thickening agent for cream

20 g.
3 spoon
8 tsp.
2 spoon
3 шт.
4 шт.
Preparation
Dilute coffee in 300 ml of hot boiled water, add cognac and cool it (do not add sugar).
Dip biscuit cookie with sugar side in coffee and spread in convertible form with sugar side up. Cover all the bottom of form in this way. Break in half the rest of cookies. Make sides of cake from halves of cookies, also dipped in coffee.
Cop fruit. At first spread layer of kiwi, then layer of banana. You can use any soft fruit (peaches, apricots, starwberry).
Spread fruit on sour cream and put in the fridge for 4-5 hours.
Then carefully remove sides of form.
Decorate cake as you wish.
PS I think that next time add in sour cream gelatin, so the cake in the cut will be better able to keep in shape.