Tiramisu by recipe of Julia Vysotskaya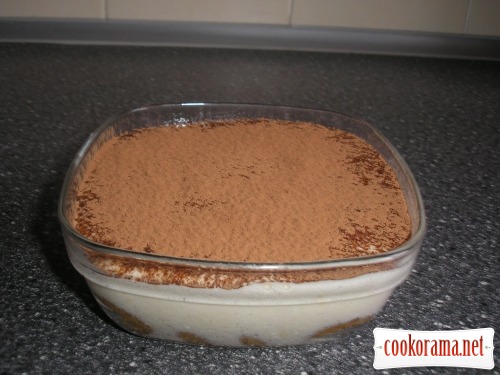 Ingridients
400 g.
5 шт.
0,5 glass
2 spoon
250 ml
1 шт.
2 tsp.
Preparation
Separate yolks from whites.
Mix yolks with sugar powder till it increases in size in 2-3 times. Add there mascarpone and mix well.
Mix whites in foam. Add them in cheese mass and carefully mix.
Add cognac in ready coffee. Soak cookies with coffee (dip quickly, or it softens a lot). Spread cookies in molds.
Spread ready mixture on cookies.
Depending on the height of molds you can repeat the layer of cookies and cream. Put in the fridge for 2-3 hours. Before serving sprinkle tiramisu with cocoa- powder.