Roll with onion marmalade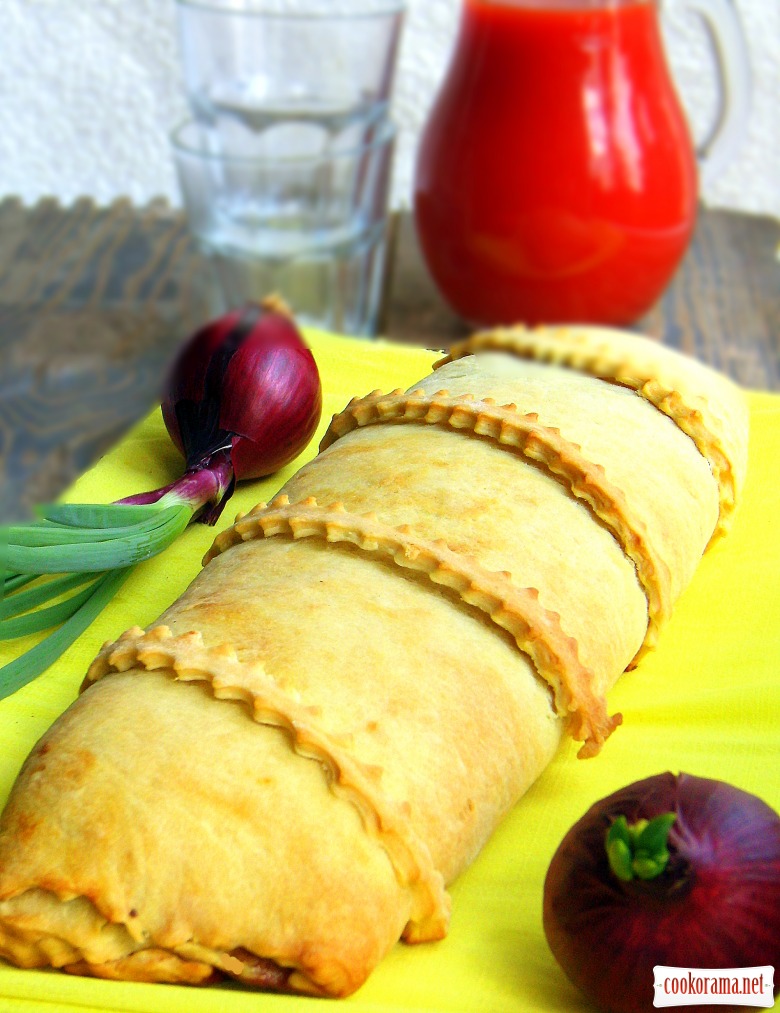 Ingridients
Dough
280 g.
1 tsp.
120 ml
120 ml
0,5 tsp.
Stuffing
1 kg
3 spoon
1 tsp.
1 spoon
Yesterday accidentally saw this recipe in a cookbook by Alena (aspiri) and could not resist cooking it. It is very tasty.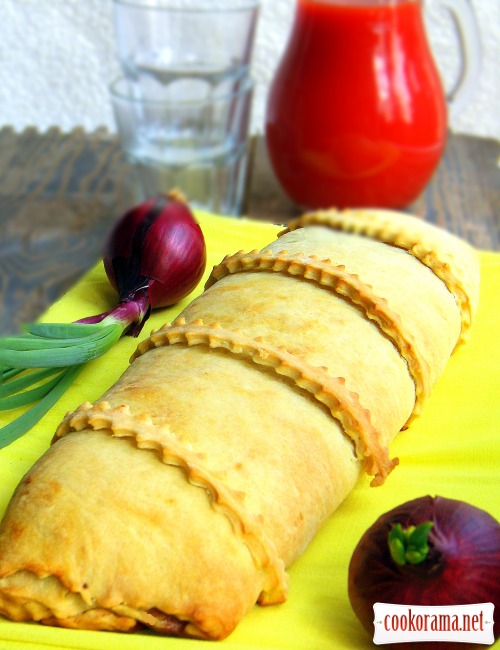 Preparation
Stuffing:
Take 1 kg of red onions, peel and cut into thin half-rings. In a large skillet heat 3 tablespoons oil. We spread onions, sprinkle with salt and simmer with lid on the slightest heat, stirring occasionally (about every 15 minutes). During this time onion «sweats» decreases in volume 3 times, becomes quite soft and not brown, but not becomes sweet.
About in an hour from the start stewing, increase the heat and simmer another 20-25 minutes, stirring constantly, until onions are lightly brown. At this stage, caramelization of onions, as a result — onion is sweet. At the end add 1tsp of black pepper and 1tbsp of balsamic. Cool it.
Dough:
1. Squeeze juice from oranges, pour in measuring cup, add odorless oil, stir it.
2. Sift flour, salt and baking powder in a large bowl. Add mixture of juice and oil, knead soft dough. Close inverted bowl and let it stand on the table for a time while preparing filling.
3. Spread in front a sheet of baking paper the same size as the baking tray. Roll or distribute with hands dough into a rectangle about the size of 20x35 cm. Spread filling on 2/3 of dough.
4. Close stuffing with free third of dough, roll again. Turn roll seam down and mash to width of 7 cm. Pierce with a fork in several places. Put paper with roll on a baking sheet.
5. Bake roll for 1 hour at 180 ℃, till good golden color. Cool on a grid. Slice cooled roll at 2 cm wide.