Goulash soup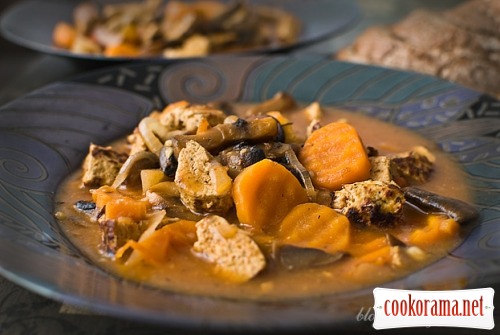 Ingridients
1 шт.
2 шт.
1 шт.
6 шт.
300 g.
0,5 glass
1 spoon
1 tsp.
0,5 glass
2 spoon
Preparation
Peel carrot, slice it. Slice onion. Chop champignons. Fry the components.
Add in this mixture chopped boiled chicken fillet (this time I used a kebab from chicken),tomato juice, sliced tomato, Mexican ketchup, hot ketchup, vegetable broth. Stew on a low heat for 5 min.
Fry flour till golden color in pan without oil, in cooled flour add cold water and mix well, to avoid clumps.
Add this thick flour mass in stewed mass, mix it, season with salt and spices. Let it stew for 10 min.
Bon Appetite! It is very tasty!
615

14 September 2010, 09:17