Cucumber soup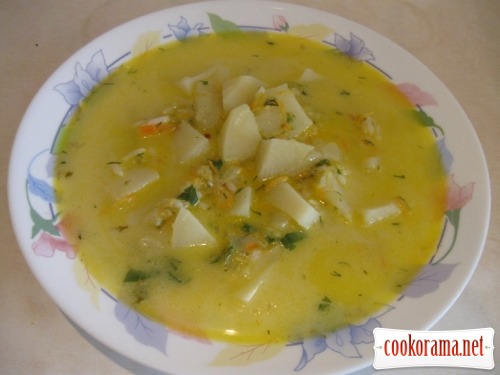 Ingridients
1,5 l
4-5 шт.
1 шт.
1 шт.
3 шт.
3 spoon
2-3 spoon
3 spoon
3-5 шт.
1 шт.

The recipe is from mother of my husband. Very tasty.

Preparation
Wash and peel carrot, potato, onion.
Dice potatoes, cut half of carrot in strips, and grate the rest. Dice onion, wash rice.
Grate pickled cucumbers.
Chop dill and parsley finely
Pour water in saucepan, add bay leaf, black pepper, sweet pepper, parsley root, bring to a boil, add rice and boil for 5 min, then add cut in strips carrot and potato, salt to taste. Boil over low heat till readiness of potato.
Once you add potato, at the same time cook frying for soup.
Pour oil in pan, heat it, add onion, fry a bit, add grated carrot, stew for 2-3 min, add sour cream and let it boil for another 2-3 min.
Once potato is ready, add grated pickled cucumbers, frying, dill, parsley, ground pepper, take bay leaf out.
Let the soup boil and remove from heat.