Liver cake with "interesting" stuffing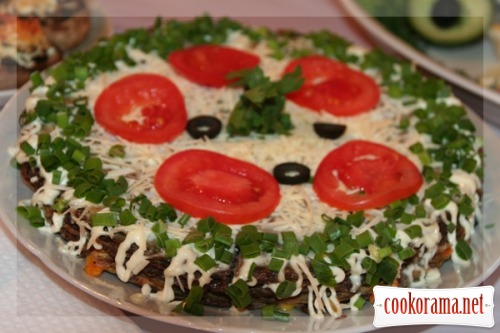 Ingridients
300 g.
300 g.
2 шт.
2 glass
1 glass
2 spoon
2 шт.
0,5 шт.
1 шт.
Preparation
Mince the liver. Add eggs, milk, flour, oil, salt and pepper. Mix it well. Flat cakes should be of medium thickness (slightly thicker than pancake). Bake in pan on medium heat. If you use Teflon pan, do not add oil.
Grease pancakes like this:
Combine mayonnaise with chopped garlic and greens. Grease pancake with this mixture, spread on top thin tomato slices and grated sautéed carrot. Cover with other pancake.
Grease upper pancake with mayonnaise, sprinkle with hard cheese, spread 3-4 tomato slices, parsley, onion, halves of olive.
Let it stay for a few hours.