Lazy cabbage rolls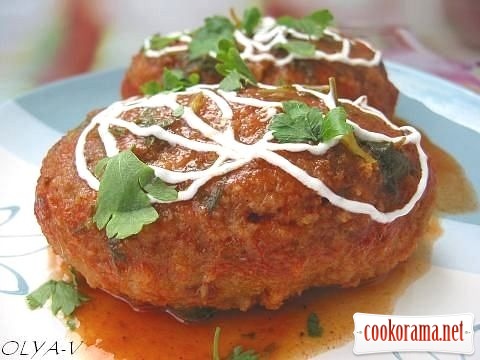 Ingridients
700 g.
0,5-1 glass
1 шт.
1 шт.
0,25 шт.
250 g.
1 spoon
2 spoon

One of my old recipes. Very tasty dish for all times!

Preparation
Chop cabbage, pour with water, to cover it, boil covered till soft.
Mince meat with onion, add boiled rice and egg.
Cool cabbage down (do not pour out water where it was boiled!), mince it, then squeeze out the excess liquid through cheesecloth, add squeezed cabbage to mince.
Salt mince, pepper to taste, add semolina (to remove excess moisture), stir well, let it stand for 5-10 min.
In water where was boiled cabbage dissolve tomato paste, add salt and pepper to taste, dissolve starch in small amount of cold water, add in cabbage water, stir it.
Put pan on heat, pour some oil. With wet hands form from mince large cutlets, roll in bread crumbs and shift on pan, fry from both sides till golden color.
Next spread fried cutlets in suitable container in one layer, pour with gravy to cover them almost completely, top with greens.
Bring to a boil, then reduce heat, cover with lid and stew for 20-25 min, then turn off the heat and let cabbage rolls to stand a bit.
Serve with sour cream.