Lazy cabbage rolls (baked in the oven)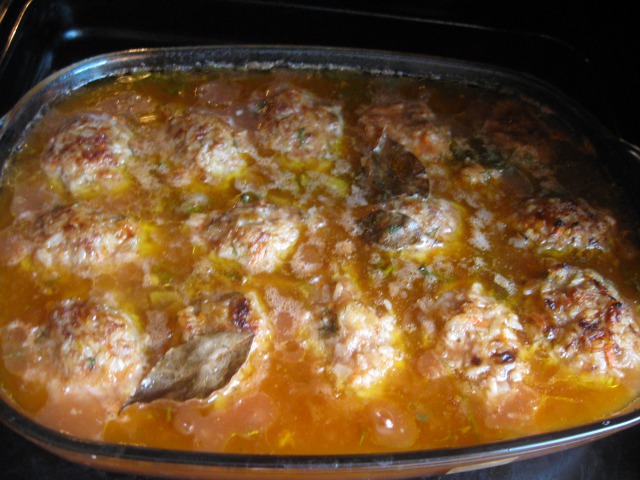 Ingridients
Ingridients
700-900 g.
1 шт.
1 glass
2 шт.
1 шт.
1 шт.
Gravy
1,8 l
2,5 spoon
2 spoon
2 tsp.
5 tsp.
2 шт.
Preparation

Grate cabbage coarsely and fry with onion and carrot in oil almost to readiness, salt it, cool. Boil rice in salted water. Stir in a big bowl cabbage, rice, mince, chopped garlic, egg. Salt, pepper it. Form cabbage rolls with wet hands and spread on baking sheet. Put it in heated oven to 250℃ for 20 min. They should brown a bit.
Put saucepan with water on fire. Dilute flour separately in cold water, to avoid clumps. Add in saucepan with warm water tomato paste, salt, sugar, bay leaf, greens and stir. Bring to boil with intensive stirring, gradually pour diluted flour. Bring to a boil.
Remove sheet with cabbage rolls from oven and pour with gravy. Put in the oven for 10-15 min. Then, reduce to 180℃ and stew for another 40 min. Bon Appetite!