Lasagna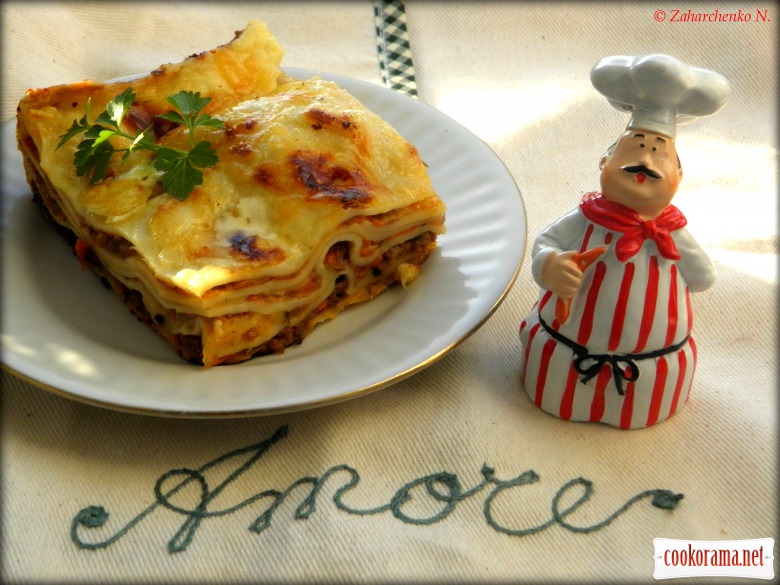 Ingridients
Dough
400 g.
3 шт.
3-4 spoon
100 ml
Bolognese sauce
600-700 g.
1 glass
2 spoon
1 шт.
2 шт.
2 шт.
4-5 spoon
Bechamel
800 ml
80 g.
80 g.
Ingridients
250 g.
First cooked lasagna. It was very tasty!

Preparation
Do not know what dough for lasagna sheets can be done at home conditions. I thank my sister for the recipe.
Lasagna sheets :
1. Sift flour in bowl and add there eggs, add oil and salt.
2. Knead dough well, gradually adding water ( you can use more water, or less, depends on products from which you cook) dough should be elastic and not sticky. After kneading, leave dough for 30-40 min, let it rest a bit.
3. After knead and rest, divide dough into required number of parts.
4. Roll dough not thinly, it is important and sprinkle with flour.
5. Leave sheets on towel, to dry.
6. Heat water in big saucepan, add salt and 2-3 tbsp of oil. Boil in boiling water dough sheets for 2-3 min.
7. Shift boiled sheets in bowl with icy water.
8. Once sheets cool down, dry them with towel form water.
Sauce «Bolognese».
1. Fry in pan onion till golden color, add in pan grated carrot. Spread in bowl.
2. Fry mince in pan, over low heat — 10 хв.
3. Add to mince fried onion with carrot.( stew for 3 min.) and pour tomato juice, stirred with tomato paste.
4. Add salt, pepper, reduce heat to minimum, and stew covered with lid for 20 min.
5. Add chopped parsley, Italian herbs and garlic clove, stir it.
Cover sauce with lid and put aside.
Sauce «Béchamel»
1. Melt butter in saucepan over low heat.
2. Add flour to butter and stir well.
3. Gradually pour in resulted mixture cold milk, constantly stirring, add salt, nutmeg, and black ground pepper. ( to taste) not bringing to a boil, remove from heat.
Amount of milk depends from desired thickness of sauce. Also, watch, that sauce thickens after cooling.
Lasagna assembly:
1. Spread some sauce «Béchamel» at bottom of baking form.
2. Top sauce with lasagna sheets.
3. Then part of sauce «Bolognese».
4. On top cover «Béchamel».
5. Grated cheese.
6. Lasagna sheets.
Thus, alternate layers until the completed form. The final layer -lasagna sheets, cover with «Béchamel» and sprinkle with grated cheese.
Bake lasagna for 40-60 min at 180℃, till golden crust.
Remove finished lasagna from oven, let it stand for 30 min, cut in portions and serve.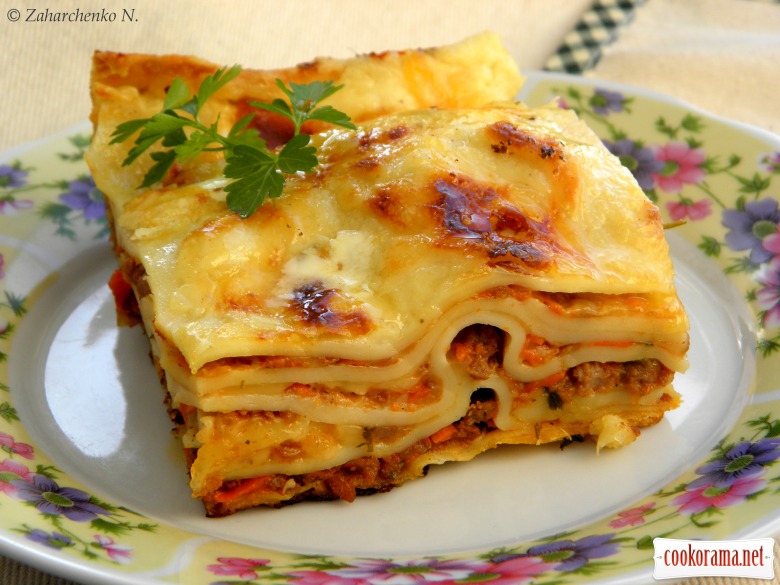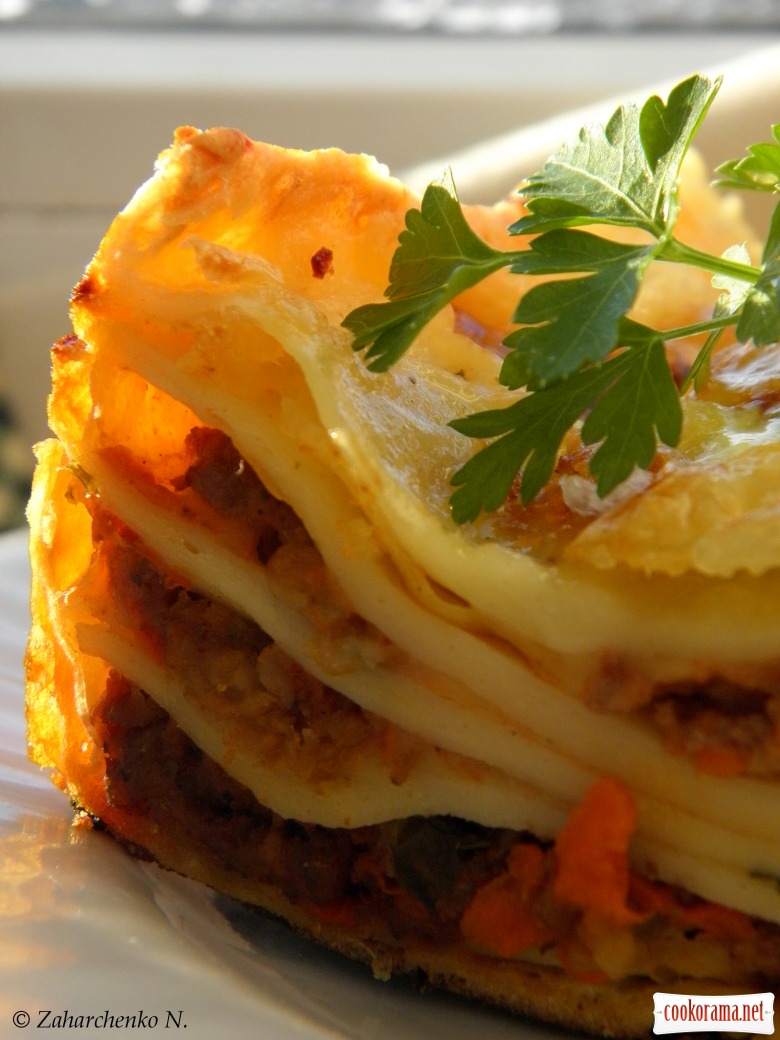 On the second day is much tastier. Especially when you eat the last piece.

861

15 December 2014, 14:20