Pasta with shrimps and garlic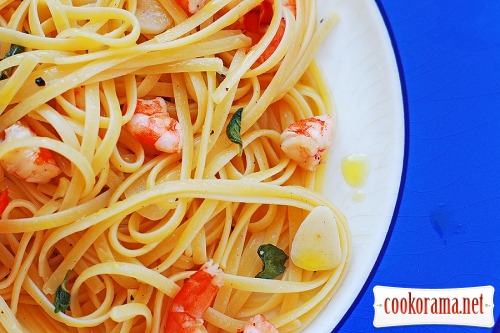 Ingridients
500 g.
20 шт.
3-4 шт.
1 шт.
0,5 шт.
50 g.
There is a type of food, which can be said that there such an amount of right recipes as much as people prepare it. Pilaf, pancakes, cutlets of minced meat, dishes, born in those countries where the spirit of the family hearth is strong, and geography dictates the basic rules of cooking. The same can be said about pasta. After trying one dish in some of the cities of Italy, you will never see the same 100 km away. And any Italian will honorably defend the position of the best chef in the world for his mother. The recipe below — just an idea, nothing concrete. Italians can disagree with something, but in one thing we will definitely be with them in solidarity: the dish should be simple, and the products must be fresh.

Preparation
This recipe I based on the famous Italian pasta recipe agli olio, ie pasta with garlic and oil. I complicated recipe only with shrimps and oregano. It's very simple and tastymain thing is that you have at hand good, fragrant olive oil. Shrimp, unfortunately, mostly to be found already cooked, but anyway, the cooking time should be minimal, no more than two minutes, otherwise they will become rubber.
Boil water in a big saucepan and salt generously. Add pasta. Depending from pasta, time of cooking is about 5-10 min.
While pasta is cooking, chop half of the cleaned shrimps. Finely chop the garlic and tear off the leaves of oregano from sprigs. You can be worried with the amount of garlic in the recipe, but trust me, all Italians agree. Garlic takes an important place in Italian cuisine, especially the Mediterranean coast. If the garlic cook properlythere will be no unintended consequences.
Put pan on a medium heat, pour 2 tbsp of olive oil and add butter. Let it melt, then add garlic, oregano and sprinkle chili pepper. Wash hands after chili. Watch, not to make garlic brown, shake pan for a few times. In a few minutes garlic will be soft and sweet. Then add shrimps. Add salt and pepper. Add lemon juice to taste. Then you should have about 1-2 min till readiness of pasta.
When pasta is ready, fold it in a colander, leaving some water, where it was boiled. Remove pan from heat, add pasta, 3-4 tbsp of water and mix well.
Serving, sprinkle with olive oil.