Rye bread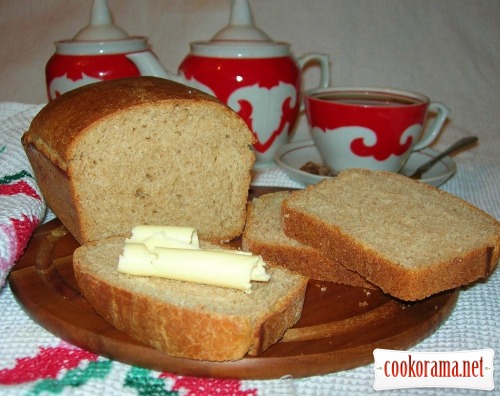 Ingridients
250 ml
200 g.
250 g.
50 g.
1 spoon
1 spoon
Long ago among the Slavs was the custom, people, who share bread, become friends for life. Bread — ambassador of peace and friendship between nations, even now. Life changes, values are reassessed, and the bread remains the greatest value. Our people are hospitable. Bread on a festive table is always a place of honor. Dear guests are greeted with bread and salt.


So I decided to test myself in this matter, so to speak, to bake — bread!))) Although this is my first experience, should note that the experience was successful!!!) Bread turned out airy inside and crispy on the outside))) As I wanted))) Now share my recipe with you.


Preparation
Dissolve the yeast in the whey, honey and leave for 10-15 min. Add ghee, salt and mix all. Mix both types of flour and gradually add in dough, also add there milled coriander and cumin. Knead dough for 15 min, and put in the warm place to rise. When the dough increases in volume, shift it in greased with butter form and leave for another 15-20 min. Then grease top with milk or egg and put in the heated at 200℃ oven. Bake bread for about 40 min.
Bon Appetite!
643

04 September 2010, 00:17