"Mouna" fancy bread with filling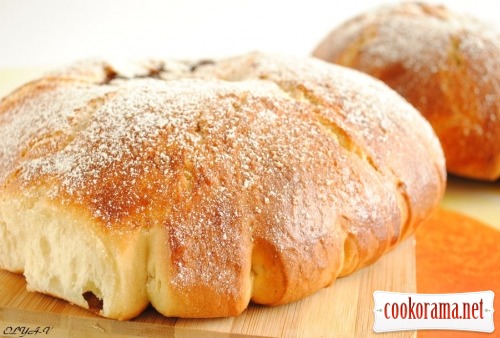 Ingridients
500 g.
130 g.
7 g.
3 spoon
7 spoon
3 шт.
130 g.
2 spoon


Recipe is taken from my cookbook " The traditional Jewish cuisine ". I transformed a bit method of dough kneading, the book said that you should knead 2 types of steep dough, and then combine them, I didn`t understand that, so did not risk.

Preparation
Sift in bowl a bit more than half glass of flour, ad half of sugar portion and all yeast, mix it, add warm water and milk, stir it, dough should be like thick sour cream, cover it, put in warm place for 30-40 min, till bubbles appear in batter.
In deep bowl mix eggs by fork, leave a bit (1 tbsp) for smearing, to the rest add melted butter, salt, peel, second half of sugar (I also added a package of vanilla sugar), mix all with fork well, pour glass of sifted flour, stir it, to get viscous dough, cover and let it stay a little.
Next add egg-butter dough to raised yeast one, mix well, adding portions of sifted flour knead elastic, smooth dough, form a ball, grease with oil, shift in bowl, cover it, put in warm place for 1 hour (I pit in the heated at 30 C oven), dough should increase twice in volume.
Cover baking sheet with parchment, grease with butter, sprinkle with flour.
Shift raised dough on sprinkled with flour table, knead again, divide in 2 parts, form round loaf from each.
Make recess in the middle, put full tbsp of jam.
Gather edges of dough in the middle and pinch them well. Slightly press loaf with hands, press edges with fingers, shift on baking tray, then make shallow cuts along the edge with a knife. Cover workpieces with a towel and let it stay for 30 min in warm place.
Heat the oven at 180-200 degrees.
Grease bread with mixture of egg (which we left, in the beginning) and half tsp of water.
Put in the oven, bake till golden brown color.
The top of the bread can be slightly dispersed, nothing to worry about.
Shift ready bread on stove and cool it, then sprinkle with sugar powder.
Bread turns out very fancy, fragrant and delicious!