Pumpkin bread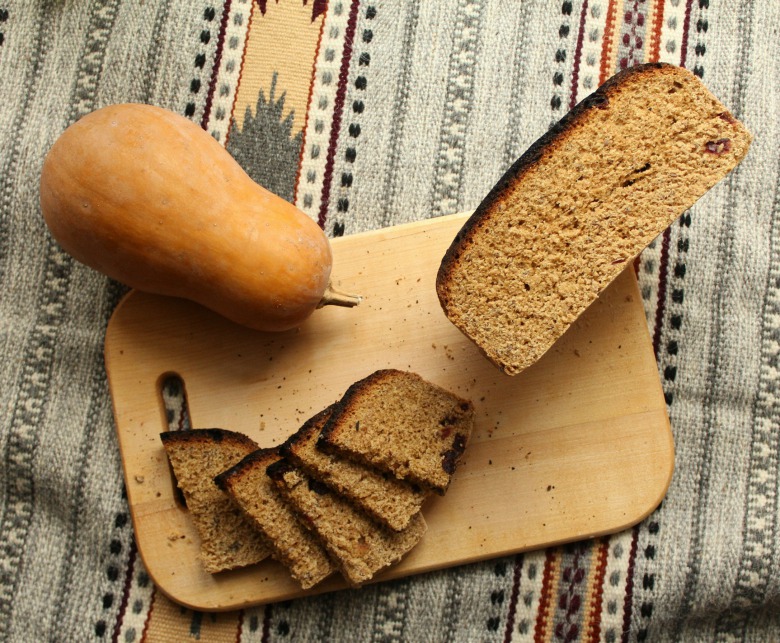 Ingridients
300 g.
150-250 ml
7 g.
3 spoon
600 g.
50 g.
Hello, dear friends!



Fragrant homemade bread has always been, and will always be decoration for each table. Today I offer to cook bread with pumpkin puree. Fragrant, crispy on top and soft inside, it is more like a cake. Taste with honey, morning coffee, jam and anything of your taste preferences

you can flavor this bread, adding flax or dried fruits. On photo is just bread with whole wheat flour with the addition of flax and dried cranberries.

Also, I advise you to experiment with different types of flour. We taste while most of all the traditional wheat and whole wheat flour. The next step is to try to cook corn. Maybe someone of users is ahead of me



I hope it tastes well and you it will be, for example, for you a delicious addition to morning coffee

Preparation
1. Stir yeast, pinch of sugar, 1 tbsp of flour with warm milk, cover with towel and leave for 30 min, for batter to rise. Amount of milk depends on puree;: if thick, then add more, if liquid- less. Or then simply regulate dough using flour, during batch.
2. In 30 min add sifted flour and rest of ingredients. At first add 600 g, then add depending on consistency: you should get elastic, a bit sticky dough. The main thing is not to overdo it — the dough should be soft and gentle.
3. Let the dough rise in bowl for 1-1,5 h.
4. After, form loaf or shift in prepared form and let it rise for another 30 min.
5. Bake at 200℃ for 50-60 min. Do not forget to control the process! Put pan or deep baking sheet with boiling water – for crispy crust J
Bon Appetite!