Pumpkin bread "Red sun"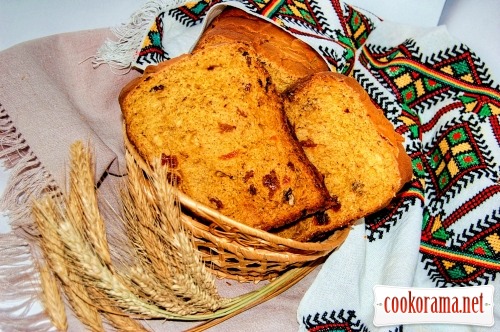 Ingridients
1 glass
4 spoon
1 шт.
5 spoon
20 g.
1 glass
3,25 glass
2 spoon
2 tsp.
6 spoon
0,3 glass
8-10 шт.
50 g.
3-4 шт.
6-7 шт.

Very tasty bread. Taste persistently reminds Easter cake. Sweet, with nuts and dry food. What a color!!! Very sunny! Very nice in these dark days of autumn. Try it!
The recipe- purely my imagination for the bread maker. You can also bake in ordinary oven- I think, it will be also good.


Preparation
Boil pumpkin in some water. Drain water, mash pumpkin into smooth mass:
Mix pumpkin puree, sour cream, egg, oil, salt:
Add flour, semolina, mixed with sugar 2 tbsp of warm water and yeast. Choose «Main» mode in bread maker and turn on:
Add nuts and chopped dried fruit after signal:
In 3 hours you will enjoy such «sunny» bread:
Bon Appetite!