Cream roll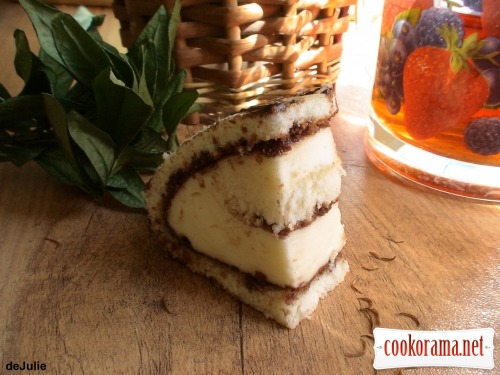 Ingridients
Dough
50 g.
25 g.
3 шт.
1 шт.
5 g.
Filling
15 g.
300 ml
200 g.
5 g.
Chocolate drenching
2 tsp.
2 spoon
3 spoon
50 g.
We wereso busy eating roll, that it would be necessary to take a picture I remembered just biting off the last piece, so the photo is only of half… sorry…

Preparation
Mix eggs, yolk, sugar and vanilla sugar well, then at the lowest speed of the mixer pour flour with baking powder and starch in two parts. Cover baking sheet(30х40сm) with baking paper, not to stick the ready biscuit and make roll easily. Spread dough and put in the heated oven (upper / lower fire 220С) for 10 min.
Meanwhile cook chocolate sauce. It is better to take a pot with a thick bottom and heat over low heat all the ingredients to a boil, constantly stirring. Cover ready biscuit with hot sauce.
For the filling dissolve the gelatin according to instructions on the package (I soaked it in 50 ml of water for 5-10 minutes and heated to complete dissolution). Whip the cream when they increase in volume and begin to thicken, add condensed milk. Mix a couple of tablespoons of cream mixture into the gelatin and enter into whipped cream. When the cream begins to thicken, sprad it on biscuit, gently fold into a roll and place in refrigerator for a couple of hours. Of course, decorate roll to your taste (I have a chocolate glaze).
My comments and feedback: well, firstly, the roll was very tasty and large, that is good news

Secondly, I liked biscuit, which is surprisingly easy folded even after cooling. But it is important not to overbake it. I'm overexposed cake in the oven a little, that`s why the edges are dry and cracked by rolling. Number of ingredients for the filling is approximate, because I used 400 ml of cream, 20 g of gelatin and full can of condensed milk -I had excess. Nothing was missing, of course: in rest of the stuffing, I added strawberry yogurt and put it to freeze in bowl- also delicious. Therefore, there are many options for stuffing fillers of roll: yogurt, fruit, berries, respectively cake then can be soaked with jam … In general, rely on your taste and imagination