Cakes "Strawberry with cream"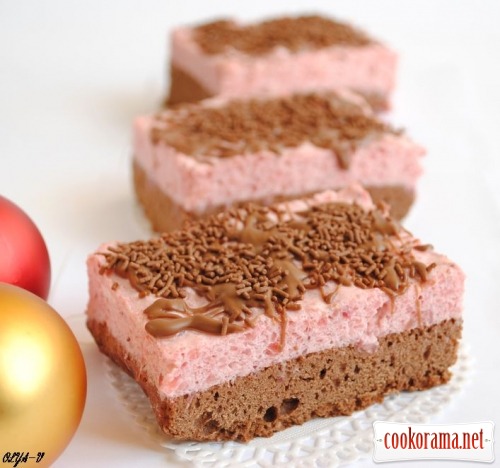 Ingridients
Base
40 g.
50 g.
70 g.
2 шт.
2 g.
2 spoon
10 g.
1 glass
Souffle
400 g.
0,5 glass
200 g.
200 g.
2 spoon
Also
60 g.
1 tsp.


Strawberries, cream and chocolate – what can be tastier?

Preparation
Shift strawberries into a bowl in advance, let them melt.
Heat the oven at 180-200℃, grease rectangular or square form with butter, if necessary, cover bottom with parchment. My form is 26.5 x 20 сm, depth 5.5 сm.
Combine in saucepan butter with broken chocolate, melt in water bath.
Mix eggs with salt, sugar and vanilla sugar into white fluffy mass, add chocolate-butter mixture, sift on top flour mixed with baking powder and cocoa, stir gently, to get smooth dough.
Shift dough in form, spread the surace.
Bake flat cake to readiness, cool it, then form, where the flat cake was baked, cover with film to hung edges down, put flat cake in form.
Drain juice from strawberry in bowl, you should get 70-80 g of liquid, you can pour some water, if juice is not enough, heat juice and dissolve gelatin in it well (look the recommended temperature on the packaging), cool the gelatin mixture.
Mash strawberry into puree, add the powdered sugar and yogurt, pour gelatin (make sure that both mixtures were approximately the same temperature, or gelatin curtailes immediately), stir and put mixture in the fridge for 25-30 min, as soon as it starts to harden remove from refrigerator and beat well with a mixer. Whip the cream and add to the mass of strawberry, mix gently.
Put souffle on the cake in form, smooth the surface.
Tighten form with film and put into refrigerator overnight.
Then pulling the edges of the film pull out the cake from the mold, cut into individual cakes with a sharp knife. Mix chocolate in bowl with oil, melt in a water bath, pour the cakes.
Store cakes in refrigerator.
Enjoy your tea!
Try to replace the strawberries with raspberries, turns out also very tasty.